Majlis Khuddamul Ahmadiyya Australia have Honour of Virtual Meeting with World Head of Ahmadiyya Muslim Community
The National Amila of Majlis Khuddamul Ahmadiyya and Local Qaideen in Australia have official meeting with His Holiness
On 12 September 2020, the World Head of the Ahmadiyya Muslim Community, the Fifth Khalifa (Caliph), His Holiness Hazrat Mirza Masroor Ahmad held a virtual online meeting with the National Amila (Executive) of Majlis Khuddamul Ahmadiyya Australia (Ahmadiyya Muslim Youth Auxiliary).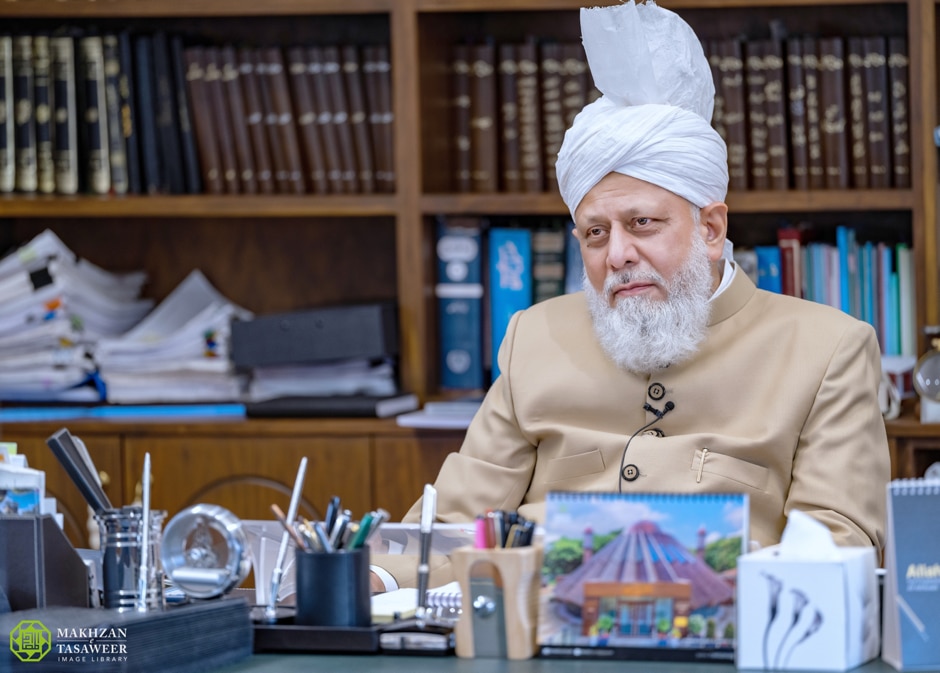 His Holiness presided the meeting from his office in Islamabad, Tilford, whilst the Amila representatives were gathered at the Khilafat Hall at the Baitul Huda Mosque complex (national headquarters) at Marsden Park, a suburb in the Greater Sydney region.
During the meeting, the Khuddam representatives were able to present a report of their respective departmental activities and proposed future plans.
His Holiness gave detailed instructions regarding the moral and religious training of Ahmadi Muslim youth and how to ensure that the administrative work of Majlis Khuddamul Ahmadiyya continually progressed.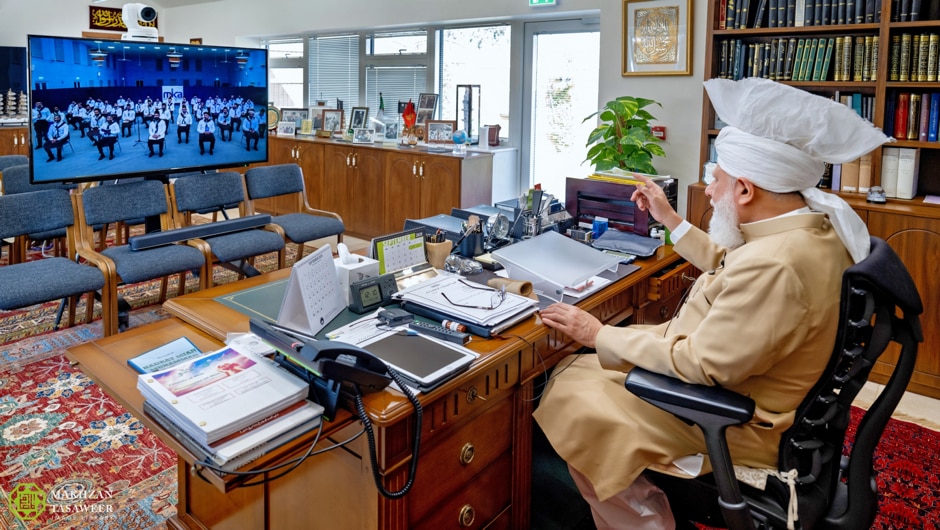 Regarding religious education, His Holiness said it was not sufficient for the National Taleem (Education) Department to only take religious knowledge tests of the general members. Rather, the National President, the National Secretary and all members of the Khuddam Executive, at all levels, were duty-bound to take such tests in order to set a positive example for the rest of the membership and to ensure that they too continued to increase their knowledge. His Holiness reminded the Amila members that true leadership required humility and sincerity and so it was essential that Amila members did not ask of others what they themselves were not practicing.
Regarding the moral training of children and teenagers, Hazrat Mirza Masroor Ahmad said:
"In schools there are certain issues or topics that are taught in a way that do not correspond to Islamic values and beliefs. Thus, it is the duty of Majlis Khuddamul Ahmadiyya to educate Ahmadi Muslim children about the Islamic view on such matters. Teach them the difference between right and wrong. Furthermore, you should engage with the youth at a personal level, be their friends and answer whatever questions they may have."
Also in regards to schooling and education, an Amila member informed that certain schools in Australia taught 'Islam' in religious education, however the curriculum included certain points that did not correspond to the beliefs of the Ahmadiyya Muslim Community. He asked if Ahmadi Muslim parents should withdraw their children from such Islamic classes.
In response, Hazrat Mirza Masroor Ahmad said:
"There is no need to withdraw your children, however parents and the Majlis Khuddamul Ahmadiyya administration should speak to the relevant schools and authorities and inform them of their concerns. They should tell them that whatever is taught in schools about Islam should be based on those matters in which there is general agreement amongst the different Muslim sects and that are according to the Holy Quran and the traditions of the Holy Prophet of Islam (peace and blessings be upon him), rather than aligning their curriculum to a particular sect."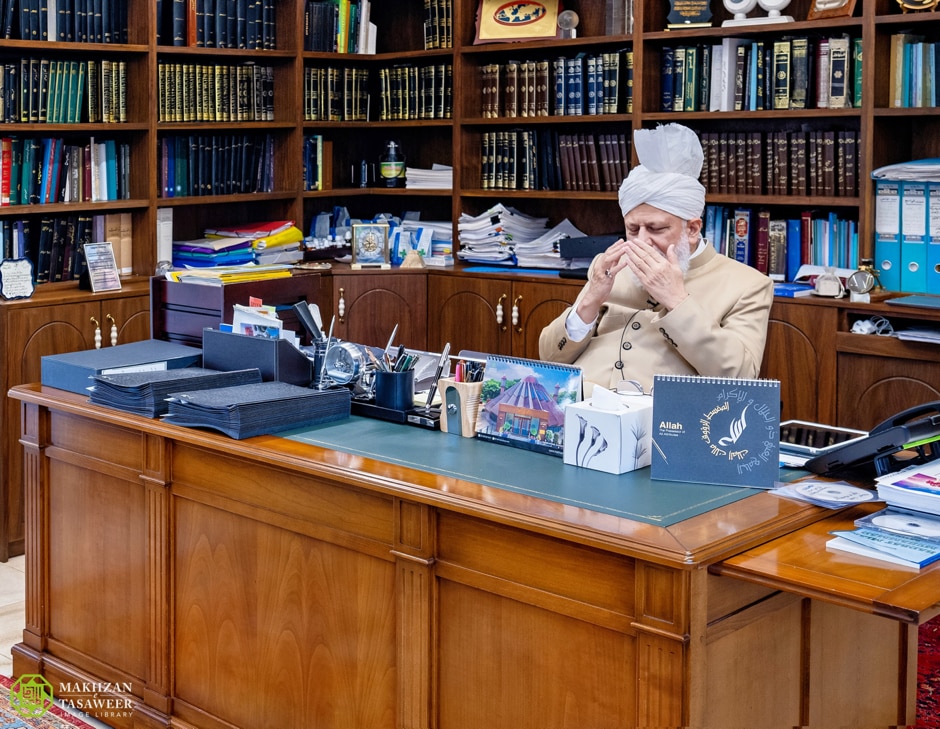 Hazrat Mirza Masroor Ahmad continued:
"Furthermore, Ahmadi Muslims must themselves guide their children about our beliefs and clarify anything wrong they may have learned in school or elsewhere. Tell your children that Islam is governed by the teachings of the Holy Quran and the traditions of the Holy Prophet (peace and blessings be upon him) and some beliefs or concepts that developed later in certain Islamic sects are false innovations. Indeed, tell them that it was to remove such innovations and to revive the true teachings of Islam that Allah the Almighty sent the Promised Messiah (peace be upon him). You should patiently answer the questions of your children and should not rest until their hearts are satisfied and fully comprehend Islam's true teachings."
Addressing older members of Majlis Khuddamul Ahmadiyya, His Holiness said they should always seek to maintain their passion and vigour for the service of Islam.
Hazrat Mirza Masroor Ahmad said:
"Once you enter Majlis Ansarullah (Ahmadiyya Muslim Elders Auxiliary) you should strive to remain young in spirit and continue to serve the cause of Islam and furthering the objectives of the Ahmadiyya Muslim Community with zeal and energy."
As the meeting drew to a close, a member of the National Amila, who had recently started to serve the Ahmadiyya Muslim Community as a Waqf-e-Zindighi (life devotee), asked His Holiness for an instruction or guidance that would serve him well throughout his life.
In response, His Holiness emphasised the fundamental importance of fulfilling the rights of God and the rights of mankind. Furthermore, His Holiness reiterated that humility in all matters was crucial and that a person should never consider himself superior to any other.