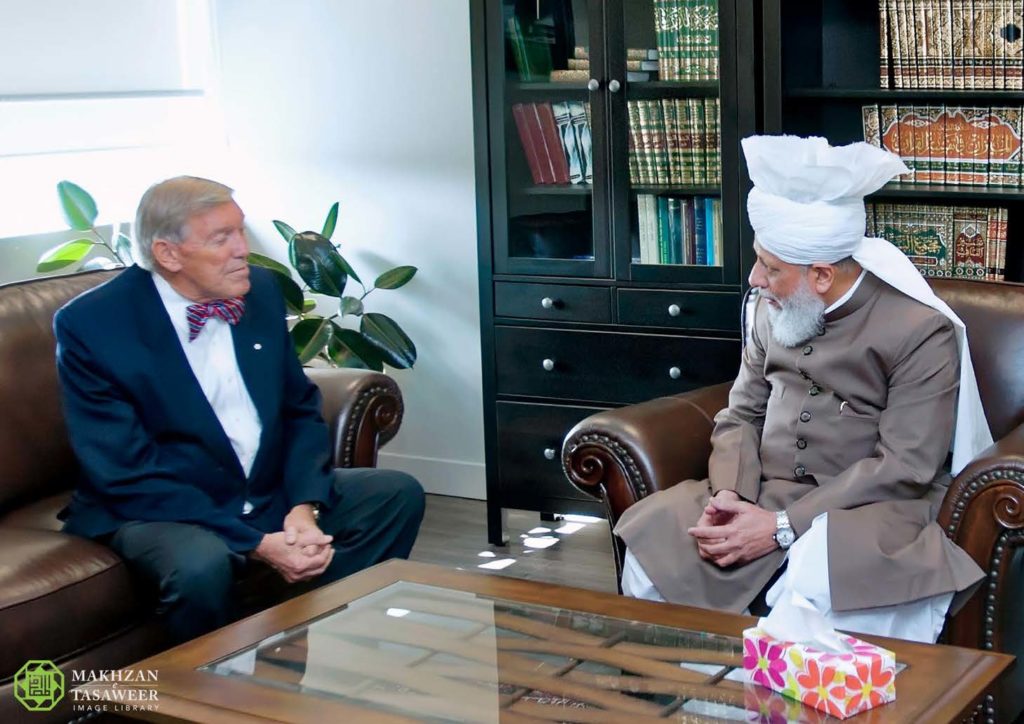 "Utilise potential of refugees" – Head of Ahmadiyya Muslim Community
Hazrat Mirza Masroor Ahmad makes comments during a meeting with Chairman of Torstar
On 5 October 2016, the World Head of the Ahmadiyya Muslim Community, the Fifth Khalifa (Caliph), His Holiness, Hazrat Mirza Masroor Ahmad was visited by Mr John Honderich, Chairman of the Board at Torstar Corporation (media group) at the Baitul Islam Mosque in Peace Village, Canada.
During the meeting, Mr Honderich expressed his regret that the Toronto Star newspaper (a Torstar publication) had recently published an article about a new study that suggested extremist literature was prevalent in Canadian Mosques and had mistakenly included a photo of the Ahmadiyya Muslim Community's Baitul Islam Mosque.
Mr Honderlich informed His Holiness, that the Toronto Star had immediately removed the photograph when notified of the error and published an official apology that stated:
"The Baitul Islam Mosque has no connection whatsoever to the content of the study — which has itself come under question — so the image of this specific mosque should never have been linked to this article… Linking this specific mosque to any report of Islamic extremism was an unacceptable error and the Star apologizes to the Baitul Islam Mosque and the Ahmadiyya Muslim Jamaat community."
His Holiness thanked Mr Honderlich for the immediate action taken by the Toronto Star to rectify the error and said that he considered the incident to be a
"blessing in disguise"
as it had been a means for Mr Honderlich and the writers at the Toronto Star to become further acquainted with the true and peaceful teachings of Islam and with the Ahmadiyya Muslim Community itself.
During the meeting, His Holiness and Mr Honderlich also discussed the impact of the refugee crisis in the Western world. His Holiness said that he considered Canada to be a
"tolerant nation who was ready to absorb immigrants better than many others".
His Holiness also said that he believed that Canada should
"utilise the potential of refugees"
by encouraging them to enter the work force as soon as possible.