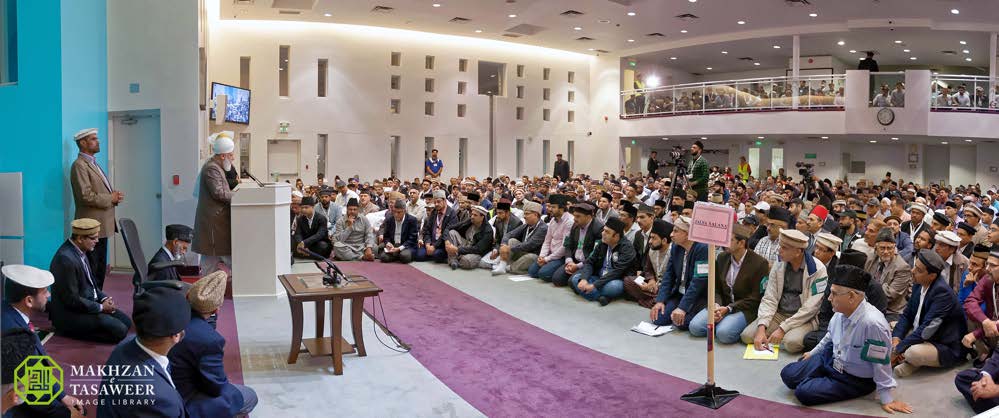 Head of Ahmadiyya Muslim Community addresses volunteers of 40th Jalsa Salana Canada
3-day Annual Convention begins later today in Mississauga
On 6 October 2016, the World Head of the Ahmadiyya Muslim Community, the Fifth Khalifa (Caliph), His Holiness, Hazrat Mirza Masroor Ahmad addressed the thousands of volunteer workers tasked with organising the 40th Annual Convention (Jalsa Salana) of the Ahmadiyya Muslim Community in Canada.
During his address at the Baitul Islam Mosque in Peace Village, His Holiness reminded the 5,100 volunteers that it was their duty to display the highest moral standards and etiquettes.
Hazrat Mirza Masroor Ahmad said:
"Every Ahmadi Muslim volunteer must always remember that he or she must display the very best etiquettes at all times and remain calm, considerate and kind throughout."
His Holiness said that each worker should remember that his or her service was offered voluntarily and ought to be conducted with humility and a spirit of selflessness.
Hazrat Mirza Masroor Ahmad said:
"Keep in mind the fact that no one has forced any of you to offer your services for duty. Rather you have all voluntarily chosen to put yourself forward with the intention of serving the guests of the Promised Messiah (as) and attaining the blessings of God Almighty. Thus, you should conduct yourselves in the best manner at all times and try to keep a smile on your face no matter what."
Concluding, His Holiness said:
"Most importantly, remember that the success of the Jalsa Salana is based upon prayer and so every person must continually pray for its success. May Allah bless the Jalsa Salana Canada in all respects and enable all of the volunteers to fulfill their duties in the very best fashion."
His Holiness spoke individually to the leaders of a number of Jalsa departments and offered guidance on various matters. Thereafter, His Holiness led the Maghreb and Isha prayers
.
Earlier, His Holiness also inspected the langhar khana (kitchen) where meals for over 20,000 guests will be prepared throughout the event.
The 3-day Jalsa Salana begins later today at the International Centre in Mississauga, Ontario, Canada.
His Holiness, who has travelled from London will address each day of the Convention and will also meet with various dignitaries and guests.