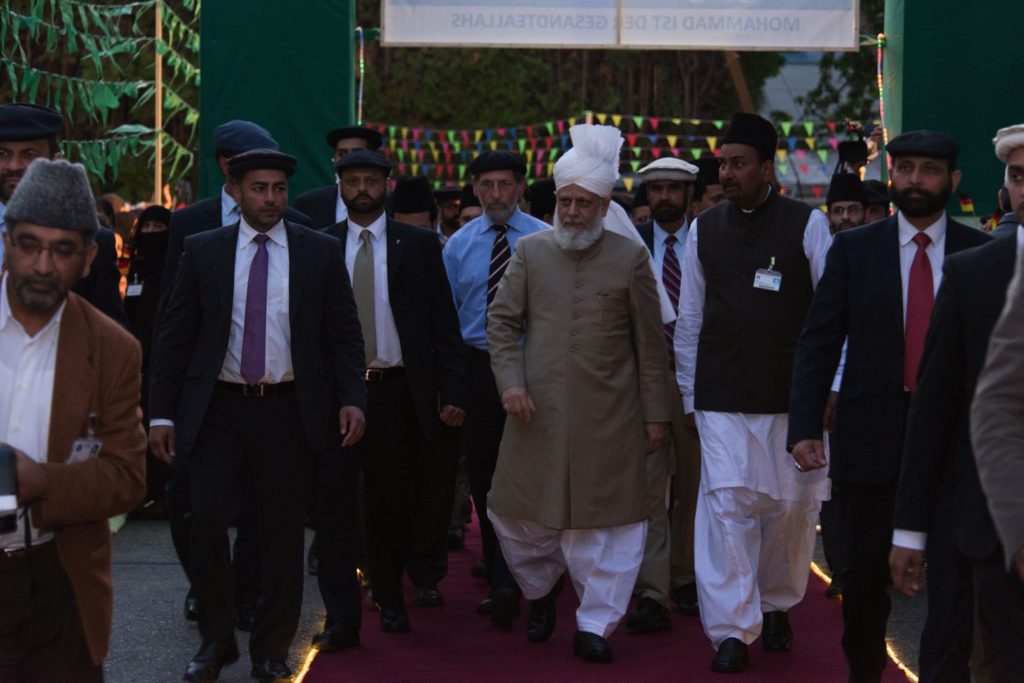 Head of Ahmadiyya Muslim Community arrives in Germany
Hazrat Mirza Masroor Ahmad travels to address Annual Ahmadiyya Muslim Convention
The World Head of the Ahmadiyya Muslim Community, the Fifth Khalifa, His Holiness, Hazrat Mirza Masroor Ahmad arrived in Germany on 2June 2014.
The Khalifa (Caliph) travelled from London by road and after crossing into France he was greeted by the National President of the Ahmadiyya Muslim Community in Germany, Abdullah Wagishauser and various other officials who then escorted His Holiness for the rest of the journey.
His Holiness arrived at the Baitus Subuh Mosque in Frankfurt at 9.40pm local time where he was greeted by more than 1,500 Ahmadi Muslim men, women and children all overjoyed to see their spiritual leader once again.
His Holiness has travelled to attend the 39th Jalsa Salana (Annual Convention) of the Ahmadiyya Muslim Community in Germany, taking place in Karlsruhe, and in which around 30,000 delegates from various countries are expected. During the 3-day event (13-15 June) His Holiness will address both Ahmadi Muslims and non-Ahmadi guests about the true and peaceful teachings of Islam.
His Holiness will also meet personally with thousands of Ahmadi Muslims who will seek his prayers and guidance. One Ahmadi Muslim, Anees Ahmad Nadeem (25), who will meet the Khalifa for the first time in his life said:
"I cannot describe the pride and joy I feel at having the honour of seeing the Khalifa of the Time in person. There are so many millions of people who wish to meet him and so for me to be given this opportunity is something I cannot believe. I just want to touch the blessed hand of the Khalifa, to offer greetings of peace to him and seek his prayers. I will treasure this opportunity for the rest of my life."