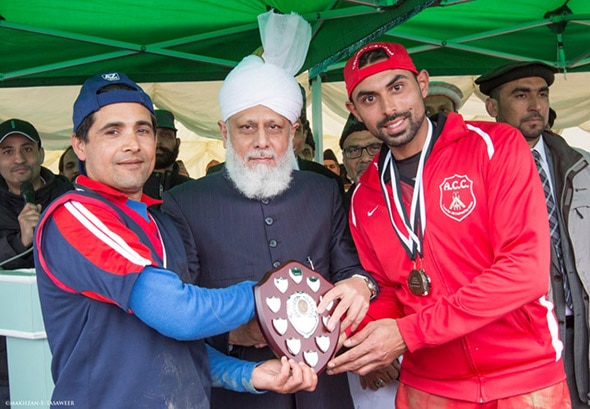 Masroor International Cricket Tournament 2014 Trophy to be Shared by Canada and England
Final of annual tournament graced by Hazrat Mirza Masroor Ahmad
The 4-day Masroor International Cricket Tournament concluded on 26 May 2014 as the winners of the previous two years, Canada and hosts England, met in the final held at the Abbey Recreation Ground in south-west London.
The highlight of the tournament was the presence of the World Head of the Ahmadiyya Muslim Community, Hazrat Mirza Masroor Ahmad, the Fifth Khalifa at the final.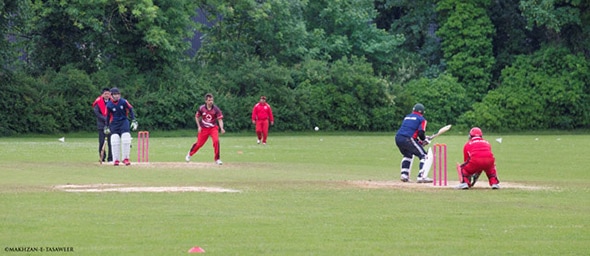 Adverse weather conditions meant the T-20 match was reduced to fourteen overs per side. Bowling first on a wet surface, the touring side – who had already won the annual event three times since its inception in 2009 – displayed outstanding fielding skills, taking difficult catches and running three English batsmen out to restrict the home side to a score of 84-9.
Many English fans felt their team had fallen short of a competitive total but their pessimism soon changed to optimism as they reduced Canada to 22-4 early in their innings.
The Canadians continued to battle hard in tough conditions and eventually required 12 runs from the final over but in the end fell just one run short of England's total.

Any Canadian despondency was soon wiped away as Hazrat Mirza Masroor Ahmad announced that the trophy would be shared by both teams because the Canadians had been disadvantaged by the increasingly heavy rain. The trophy was then presented to the winning captains by the Khalifa.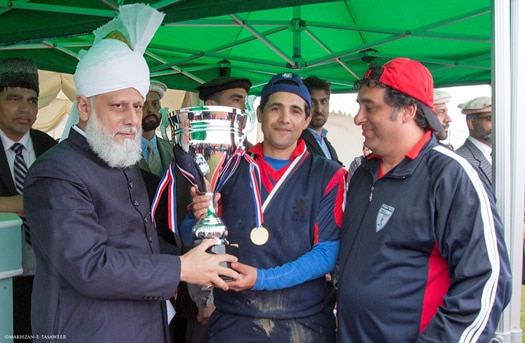 Last year Canada was unable to defend their trophy as the tournament coincided with a visit to Canada by Hazrat Mirza Masroor Ahmad. Thus, both the English and the Canadians had entered this year's tournament as champions and due to the decision of the Khalifa both teams left as they had arrived.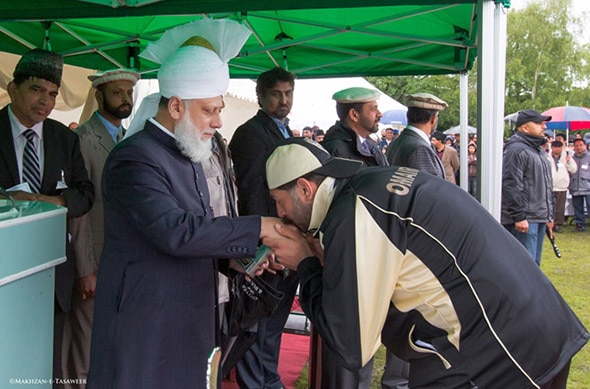 In terms of individual awards this year the Omair XI team excelled as they hit a record score of 243 in a rain-reduced 15 over match, whilst their all-rounder Mirza Laeeq won the Man of the Tournament award.