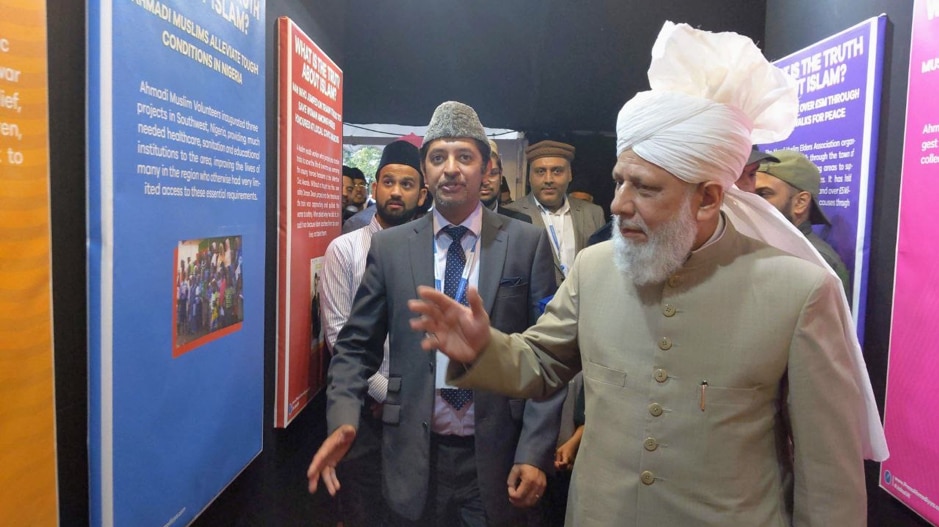 Huzoor's meetings at Jalsa Salana UK 2019
Introduction
It has now been confirmed that it will, sadly, not be possible to hold the Jalsa Salana UK in August 2020 due to the continuing effects of the coronavirus pandemic. For some time, it was clear that it would be almost impossible to hold the Jalsa, yet when confirmation came it still felt incredibly strange and sad.
Immediately, memories of past Jalsas came to mind. The sheer outpouring of emotion during the Bai'at ceremony; the blessed coat of the Promised Messiah (as) worn with such humility and grace by his Fifth Successor. The faith inspiring addresses of Hazrat Khalifatul Masih V (aba) and the atmosphere in the Jalsa Gah whenever Huzoor arrived. The unbelievable joy of meeting brothers from around the world and coming together of a multitude of ethnicities and cultures all bound together through their spiritual bond with the Promised Messiah (as).
Furthermore, I have had the privilege to witness Huzoor's engagements and meetings outside the formal sessions of Jalsa Salana, some of which – from Jalsa Salana 2019 – I wish to narrate below.
Saturday Evening Delegations
On the evening of Saturday, 3 August 2019, Huzoor met with a delegation of guests from The Review of Religions, politicians from Holland and Canada, as well as separate meetings with staff members from the offices of certain US Congress members and representatives of the United States Commission on International Religious Freedom (USCIRF).
During the meeting with the Congressional delegation, an American guest expressed how 'well managed and organised' the Jalsa Salana was.
Hearing this, Huzoor said:
"It is just a small makeshift arrangement whereby this farmland comes alive and is transformed into a tent city for a few days so we can hold this unique gathering."
Another member of the US delegation asked Huzoor if it would be helpful if the American authorities restricted the visas of Pakistani government officials as a form of political pressure or sanction in response to the persecution inflicted upon Ahmadi Muslims in Pakistan.
The answer given by Huzoor illustrated perfectly Islam's teachings of prioritising the rights of others over and beyond one's own right.
Huzoor said:
"In terms of Pakistani Government officials, I do not wish for you to put restrictions on them due to the Ahmadi issue. A few of them even sympathise with us but their hands are tied due to the pressure of the extremists Mullahs (clerics). If they take any step in our favour the backlash will be too much for them to withstand. If you restrict their visas it could harm Pakistan or cause problems for the government and so we have no desire for such a step to be taken."
Huzoor continued:
"For the security of the United States itself, and independent of the Ahmadi issue, you should be vigilant and ensure you do not allow clerics or preachers who spread hatred to enter your country."
A female staff member from the office of Congresswoman Jackie Speier asked:
"Your Holiness, how does the Ahmadiyya Muslim Community empower women?"
In reply, Huzoor said:
"I do not know if you have been to the women's side at the Jalsa? If you have not, you should go tomorrow. You will see for yourself that Ahmadi women are independent, they are strong, they are extremely educated and skilled. Even some of our Mosques have been designed by Ahmadi women. We firmly believe that every girl must be educated and you will have seen that I gave educational awards to many girls today in the ladies session of the Jalsa. In fact, the literacy rate of Ahmadi Muslim girls exceeds that of our boys."
Perhaps sensing that the guest was desiring to know if ladies could be elected to the status of Khilafat, Huzoor continued:
"Within our women's organisation, Lajna Imaillah, our women have their own leadership structure and they work independently. However, if you mean to ask if they will ever be elected as Head of the Ahmadiyya Muslim Community – as Khalifatul Masih – this is against the teachings of Islam."
Another guest said she was very impressed to see young children doing 'duties' and seeing how much they valued the Jalsa, despite their very young age.
Upon this, Huzoor said:
"Yes, to train our children and to involve them is extremely important. As a child I myself did Jalsa duties and the significance of Jalsa was ingrained in me through these duties from a very young age."
 Huzoor enquired from a female member of the US delegation if the food served at the Jalsa was to her taste and said he hoped it was not too spicy for her.
Upon this, the guest responded:
"Actually it was not spicy enough!"
Smiling, Huzoor said:
"Probably they took you to the guest dining area where they purposely reduce the spice levels. From now you should tell them you wish to eat the food served to Ahmadis in the general dining area as it will be hotter!"
During a meeting with Dr Dwight Bashir and Dr Harrison Atkins, senior representatives from USCIRF, Huzoor expressed his appreciation at the way Abdul Shakoor sahib, who had been imprisoned in Pakistan for over three years, had been received in the United States following his release in March 2019.
Huzoor said:
"Recently, there was a Religious Freedom convention in the United States in which an elderly Ahmadi Muslim, Abdul Shakoor, who had been unjustly imprisoned for several years in Pakistan was invited as a guest of the US State Department. It was a pleasant surprise to me to see how well he was treated and respected by the American authorities and for this gesture I offer my thanks to you and the US State department."
The Review of Religions delegation included Turin Shroud experts, one of whom informed Huzoor that she was being interviewed by the official Vatican Radio the next day and the subject of her discussion was why the Ahmadiyya Muslim Community was interested in the Shroud.
Upon this, Huzoor smiled and said:
"I am pleased to hear this and I am sure you will do a good job conveying our beliefs. Personally, I hope it is possible for me to meet Pope Francis soon."
A blessed surprise
As the meetings progressed, I remember thinking that Huzoor was conducting them quite quickly. I assumed it was due to his intense workload and extremely busy schedule. There was an official dinner reception hosted by Wakalat-e-Tabshir to follow and furthermore, Huzoor had to prepare his notes for his address at the concluding session of Jalsa.
All of this was true but, to my astonishment, I soon learned that there was another reason why Huzoor was conducting the meetings a little faster than usual.
Following the end of the penultimate meeting, Huzoor looked in my direction and said:
"I have shortened these meetings purposely so that I can come and visit the Press & Media exhibition and to see your team."
I was bowled over by Huzoor's kindness. For many years, we had hosted an exhibition at the Jalsa Salana, in which we sought to demonstrate the peaceful teachings of Islam and the unceasing efforts of Hazrat Khalifatul Masih V (aba) to propagate Islam and to break down barriers between people of different faiths and religions.
Over the years, members of my team had often expressed their hope that perhaps, one day, Huzoor would visit our exhibition, as he had occasionally visited others. However, given that I knew how relentless his schedule was, I never felt comfortable to request Huzoor to spare his precious time to visit. I did not see fit to add to his burden in any way.
This year, in the weeks and days leading up to the Jalsa, the members of the Press & Media team had worked extremely hard to better the quality of the exhibition. Some had worked for days on end, through the nights, at Hadeeqatul Mahdi in order to set up an exhibition entitled 'Islam in the Media', which Huzoor had graciously chosen for our department's exhibition theme.
Having witnessed their efforts and the redness in their eyes, when one of the members asked me if there was any chance of Huzoor visiting this year, I felt, for the first time, that it was their right that I should request Huzoor to visit.
Hence, with a sense of apprehension and without any expectation whatsoever, I had sent in a request earlier that day to Huzoor asking him to visit our exhibition for a few moments if at all possible.
So when Huzoor mentioned he was coming, I was overwhelmed with gratitude and delight. At the same time, I felt immediate panic and I could tell my pulse was rising with excitement and nerves!
I had told our team members to be ready at any time but, it was now quite late and the exhibition would normally have closed for the day. Thus, from Huzoor's office, as the next meeting started, I texted members of the team telling them to get ready and prayed that the irregular phone reception at Hadeeqatul Mahdi would not impede the delivery of the messages.
As the final meeting concluded, Huzoor walked out of his office and straight to his car, parked outside his residence. I sat in another Qafila car, a few cars behind Huzoor's and as we approached the Press & Media marquee, I was relieved to see most members of the team were present and waiting to receive Huzoor.
Still, not everything went to plan! They were waiting at the front entrance but Huzoor's car stopped to the side of the marquee, where there was a secondary entrance. It meant that Huzoor would enter from the side where the exhibition concluded rather than from where it began.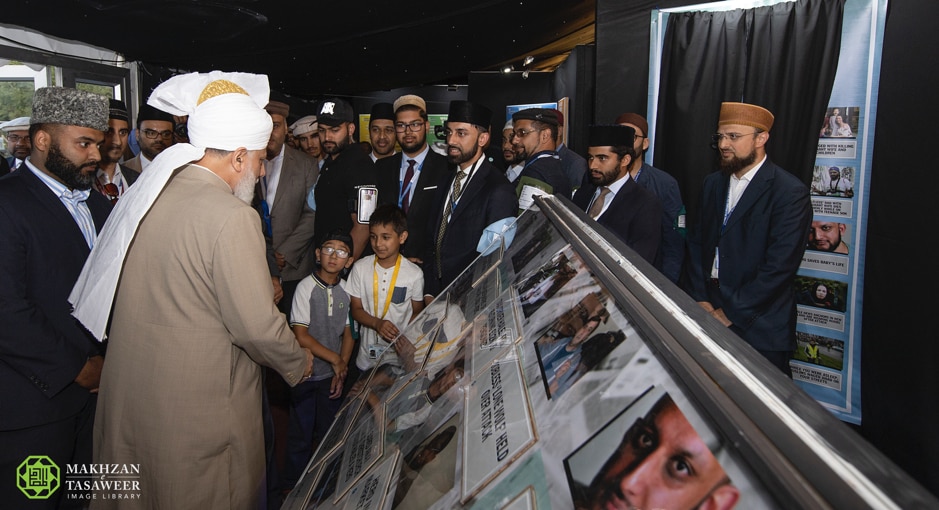 I jumped out of my car and indicated to Huzoor that the main entrance was to the other side.
Smiling, Huzoor said:
"What difference does it make? I will go in from this side."
Upon this, Huzoor entered the exhibition and Khalil Yousuf, who had served in the Press & Media Office for many years, had the opportunity to escort Huzoor around the marquee and explain some of its features.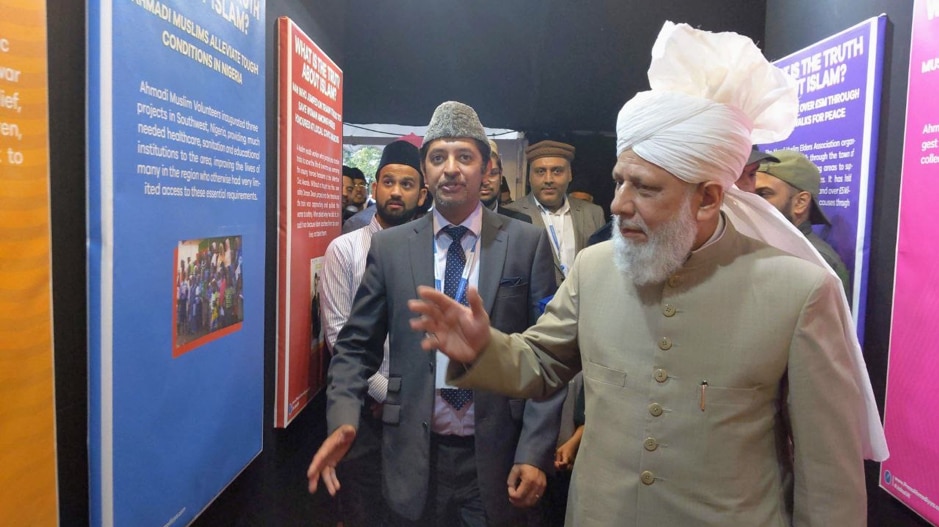 A member of Huzoor's security team gestured to me to move forward indicating that I should be the one presenting the exhibition to Huzoor.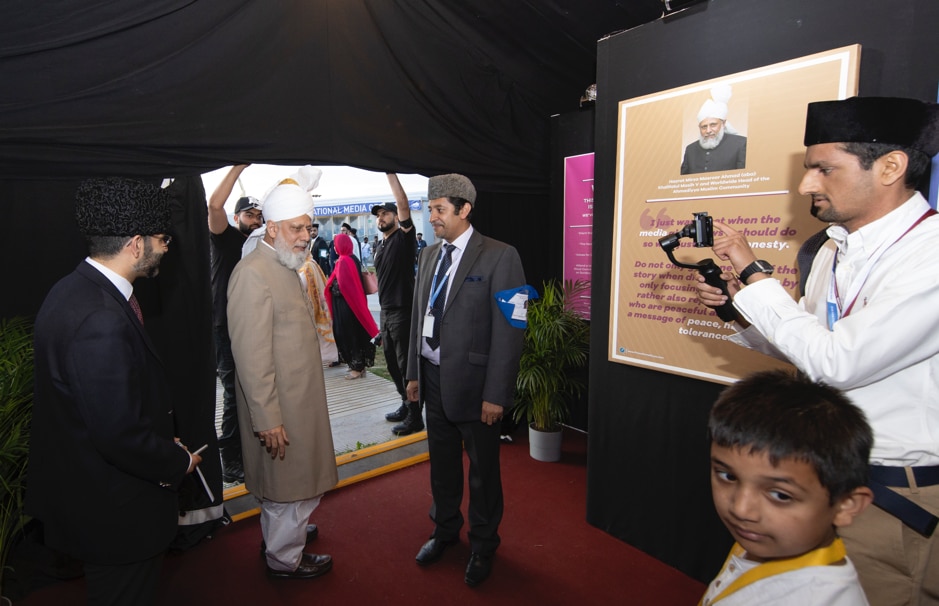 However, I wanted the team members, who had desired for Huzoor to visit for so many years, to have that chance to meet Huzoor and to present their humble efforts.
Truth be told we were not deserving of Huzoor's grace, love and compassion and, even now, I feel guilt at the imposition upon Huzoor's precious time.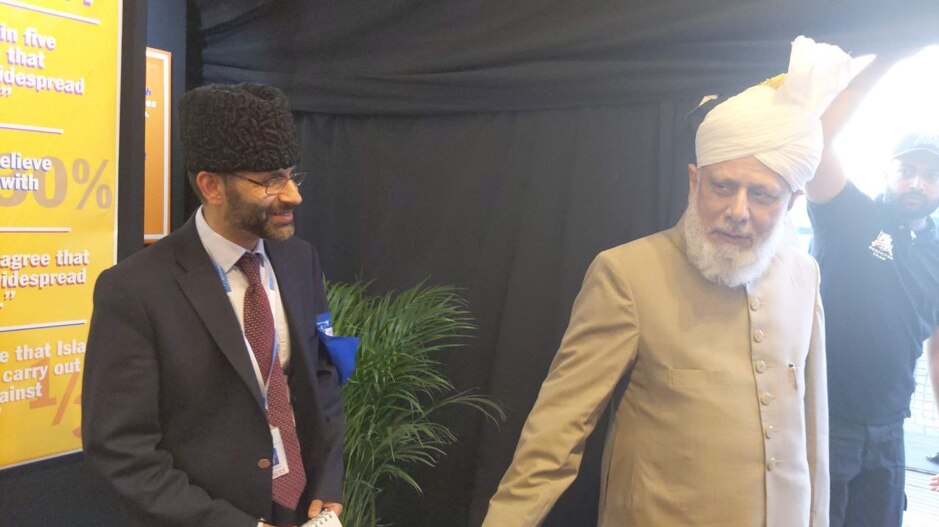 We will never forget those moments, in the midst of Jalsa Salana, which Huzoor gave to us.
Breathtaking moments
By now word had spread that Huzoor was present and so Ahmadis, in their droves, came towards him and sought to be as near to him as possible.
Shortly after, Huzoor proceeded to visit the Review of Religions exhibition and as he walked towards their marquee thousands of people rushed towards him from all directions.
The security team tried their utmost to keep some distance between the crowds and Huzoor but to little avail. The atmosphere was reminiscent of the scenes in Peace Village in Canada in 2016 when Huzoor went for a walk late in the evening and was greeted by thousands of Ahmadis.
Throughout, Huzoor smiled, waving to the Ahmadis and returning their salaams with great love and affection.
As we walked a few paces from Huzoor, Ameer Sahib Germany, who was also present, said to me:
"Abid sahib, this is like the Qadian Jalsa!"
I instantly knew what he meant; upon the conclusion of the Qadian Jalsa Salana in 2005, Huzoor walked in the midst of the Jalsa Gah area and thousands upon thousands of Ahmadis rushed towards him, whilst raising slogans in gratitude to Allah.
Words fail to do justice to the atmosphere and emotions evoked during the brief walk that evening at the Jalsa Salana towards the Review of Religions exhibition and then, a few minutes later, when Huzoor proceeded to the main Jalsa Gah for Namaz.
It was breathtaking, faith-inspiring, emotional and so, so much more.
I can only say Alhamdulillah that I was able to be present during those unforgettable moments.
Sunday evening meetings
On Sunday evening, after the Jalsa Salana had successfully concluded, Huzoor returned to his temporary office at Hadeeqatul Mahdi for further meetings with delegations from different countries.
The first meeting was with a delegation of indigenous 'First Nations' chiefs from Canada.
As they entered the office, Huzoor noticed they were carrying a large drum.
Glancing towards me, Huzoor smiled and said:
"Dhol bajanay aaein hain?"
That:
"Have they come here to play the drums?"
I almost burst out in laughter at Huzoor's light-hearted comment.
During the meeting, the First Nations chiefs took the opportunity to share their historical experiences of injustice and, in response, Huzoor offered his prayers and sympathies and encouraged them to preserve their culture and to ingrain it within their future generations.
As the meeting continued, one chief said:
"Your Holiness, I have seen that Ahmadi Muslims have some values that are similar to ours – for example, you value water and consider it a great blessing."
In response, Huzoor said:
"Water is the source of life and where physical water is the means of the wellbeing of our physical body, we believe that spiritual water is the source of life and sustenance for our soul. Spiritual water is delivered by the Prophets of God and so it is my prayer that all of you come to recognise the fresh water and rain of this era."
It was a profound metaphor and a beautiful way in which Huzoor invited the First Nations people to consider the truth of the Promised Messiah (as).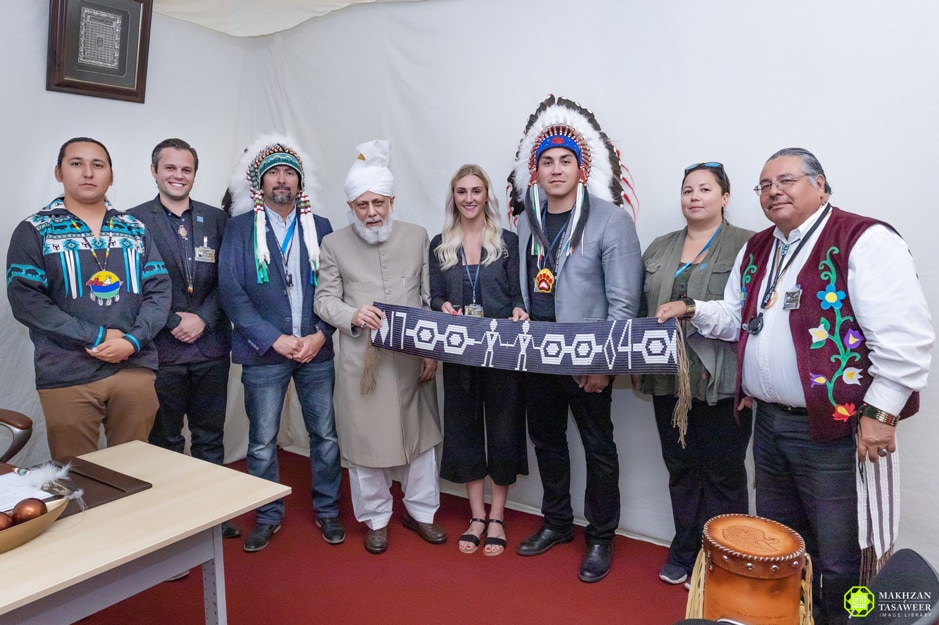 The guests also asked Huzoor if he would be visiting Canada in the near future.
In reply, Huzoor said:
"I do not think I will be visiting Canada in the near future. The Jamaat there has extended an invitation many times but at this time it is not possible. However, I hope it is possible for me to one day visit your lands and to come and meet all of you in your homeland."
After the meeting concluded and he waited for the next group, Huzoor asked me if his concluding Jalsa address had been "too long". I felt embarrassed that Huzoor even felt the need to ask this and, certainly, I could not consider any speech of Huzoor to be too long.
Huzoor said:
"The topic which I spoke about – the rights of mankind in Islam – is vast. I could have spoken for many hours on this subject and still not have done justice to it."
I also mentioned the fact that a Christian group had approached the Jalsa site the day before with the intention of holding a demonstration against Islam. They had travelled especially from London to do so.
I also mentioned that I had heard Huzoor had instructed that the protesters be treated with kindness and invited onto the Jalsa premises. They had then stayed on site for a few hours and engaged in a peaceful and passionate debate with Ibrahim Noonan sahib and some other Ahmadis, whilst enjoying the hospitality of Jalsa.
Huzoor said:
"Yes, when I found out they had come, I instructed that we should feed them well and give them some tikkay and kebabs. The best way to deal with opposition and hatred is through love and kindness."
Huzoor continued:
"Even before my instruction, Ameer Sahib UK had invited the protesters inside the Jalsa complex and so this shows that the UK Jamaat has learned some things at least from my training."
A delegation of the Uighur Muslim community was also able to meet Huzoor that evening, including Ms Rushan Abbas, who was a prominent activist on behalf of the Uighurs. The members of the Uighur delegation had taken refuge in the United States.
During the meeting, the Uighurs were able to explain first-hand the persecution they and other members of their community had faced in China. Many had immediate family members who were still in China and suffering.
Explaining further, Ms Abbas said:
"For decades the Chinese authorities desired to oppress us and increase their persecution and ever since 9/11 happened they have used that attack as an excuse to target us, even though we are peaceful. The persecution of the Uighur community has increased rapidly."
Huzoor enquired why the Uighurs were specifically targeted, whilst other Muslim sects in China were mostly left alone.
In response, Ms Abbas expressed her view that the Uighurs were the first target but eventually other Muslims would be targeted and persecuted as well. She expressed her dismay that Muslim nations mostly ignored their plight and prioritised their business interests with the Chinese Government.
Another Uighur delegate said that the Chinese targeted Uighurs because they sought to maintain their Islamic values and were unwilling to disregard their faith. He said that, in his view, only Ahmadi Muslims and Uighurs were seeking to uphold Islamic values, whilst other Muslim sects were willing to abandon them for the sake of personal gain or profit.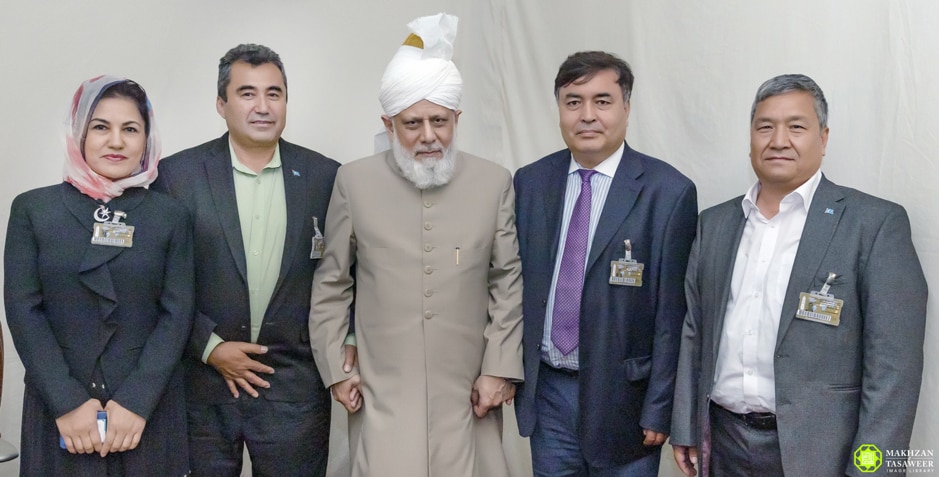 Throughout the meeting, Huzoor expressed his sympathies and prayers for the Uighur people and how, with his permission, the USA Jamaat had been actively campaigning for the rights of the Uighurs over the past year.
Another member of the group said that the Chinese authorities considered Islam to be a 'disease' that required a 'cure'.
It was clear that Huzoor was affronted by the claim that Islam was considered a 'disease'.
In response to this, Huzoor said:
"How do they plan to cure it? I hope that we are able to send more Ahmadi Muslims to China in future then they will realise first hand that Islam is not a disease but is actually the cure to the whole world's problems and injustices."
Further meetings with delegations from Singapore, China, Ireland, Greece, Switzerland, Austria, France, Ghana and Uganda took place that evening.
A new Ahmadi convert from Singapore sought the chance to tell Huzoor how his life had turned around completely after accepting Islam.
The new convert said:
"For years I had severe depression and it reached the stage that I tried to take my own life on three occasions. At that time, when I was at my lowest, I saw in a dream the Kaabah and in the dream I felt as though I should lay down all my burdens before God and turn in the direction of the Kaabah. After that I researched Islam for two years and entered the fold of Ahmadiyyat. All of my past depression and mental health problems have disappeared and I now have inner peace and contentment."
No time for sleep
During one of the meetings, a guest asked Huzoor if he was sleeping well and finding the time to rest.
In reply, Huzoor said:
"During these days of Jalsa I am unable to sleep well."
As Huzoor said this, I thought of the incredible mental and physical burden placed upon him. Meeting after meeting, speech after speech and there was no sign of respite.
Over the next few days and weeks, the meetings and activities linked to the Jalsa Salana would continue followed soon after by the UK National Ijtemas of Khuddam, Ansar and Lajna. Thereafter, Huzoor was scheduled to visit Europe for a lengthy tour.
At the conclusion of the penultimate meeting, when the guests filed out and there was only Huzoor and I left in the room, I noticed that Huzoor placed his hands over his face and closed his eyes.
For ten or fifteen seconds it appeared to me that Huzoor had actually fallen asleep. I do not know if he was actually asleep or had just closed his eyes for a moment's rest but I remember vividly wishing that the final group was delayed a few minutes so Huzoor could continue to rest.
However, a few seconds later, Private Secretary, Munir Javed sahib opened the door and the final delegation of guests from Uganda and Ghana entered.
I was left completely amazed because as soon as Huzoor opened his eyes it seemed as though he was totally refreshed.
Within a second, Huzoor noticed one of the members of the delegation and upon seeing him, Huzoor said:
"I am happy to see you. I heard that you were unwell and so I was very surprised when I saw you a few days ago in the Mubarak Mosque."
Thereafter, Huzoor enquired about his health and once satisfied that he was well recovered, Huzoor jokingly said:
"You do look like you have lost some weight, however not from your belly!"
Huzoor understands the humour of the Ghanaians and Africans in general and so it was no surprise to see how they all erupted in joyous laughter and seeing their reaction, Huzoor also laughed and enjoyed the moment.
It was a living reflection of how Khalifa-e-Waqt's love for the members of the Jamaat is such that he seemingly becomes energised and rested when he is with his people.
The meeting continued for quite some time and the mutual bond of love between Huzoor and the African Ahmadis was clear to see.
Finally, after glancing at his watch, Huzoor smiled and said:
"It is now time for Salat – let us go and pray."
A short video report of the visit of Hazrat Khalifatul Masih V (aba) to the Press & Media exhibition at Jalsa Salana UK 2019 can be viewed here: http://bit.ly/JalsaUK19video
---
Any comments or feedback: abid.khan@pressahmadiyya.com