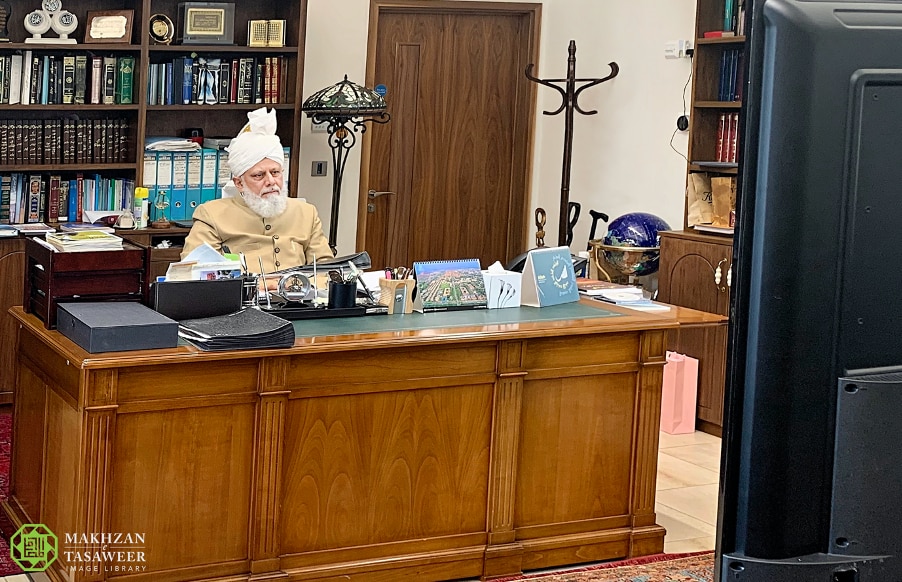 Lajna Imaillah Holland Have Honour of Two Virtual Meetings with World Head Of Ahmadiyya Muslim Community
On Saturday, the National Amila of Lajna Imaillah Holland have official meeting with His Holiness
On Sunday, a group of Lajna Imaillah Students & New Converts have opportunity to meet His Holiness
On Saturday 22 August 2020 and Sunday 23 August 2020, the World Head of the Ahmadiyya Muslim Community, the Fifth Khalifa (Caliph), His Holiness Hazrat Mirza Masroor Ahmad held separate virtual online meetings with members of Lajna Imaillah Holland (Ahmadiyya Muslim Women's Auxiliary).
On Saturday, members of the National Amila (Executive) of Lajna Imaillah Holland were granted an audience with His Holiness, whilst on Sunday, over 30 Lajna Imaillah students and converts to the Ahmadiyya Muslim Community had the opportunity to meet His Holiness and to ask him questions and seek his guidance on various religious matters and contemporary issues.
His Holiness presided both meetings from his office in Islamabad, Tilford, whilst the Lajna Imaillah members were gathered at the Lajna Hall at the Baitun Noor Mosque complex in Nunspeet, Holland.
During the meeting with the National Amila of Lajna Imaillah Holland, the Lajna representatives were able to present a report of their respective departmental activities and proposed future plans.
His Holiness gave detailed instructions regarding the moral and religious training of Ahmadi Muslims.
In relation to Hijab, Hazrat Mirza Masroor Ahmad said:
"It is important to make it clear to Lajna members that Hijab is not something that was initiated by the Ahmadiyya Muslim Community but is a clear commandment written in the Holy Quran and instructed by the Holy Prophet of Islam (peace and blessings be upon him)… The crucial point that needs to be reinforced is that the Holy Prophet (peace and blessings be upon him) taught that modesty is a fundamental part of one's faith as a Muslim."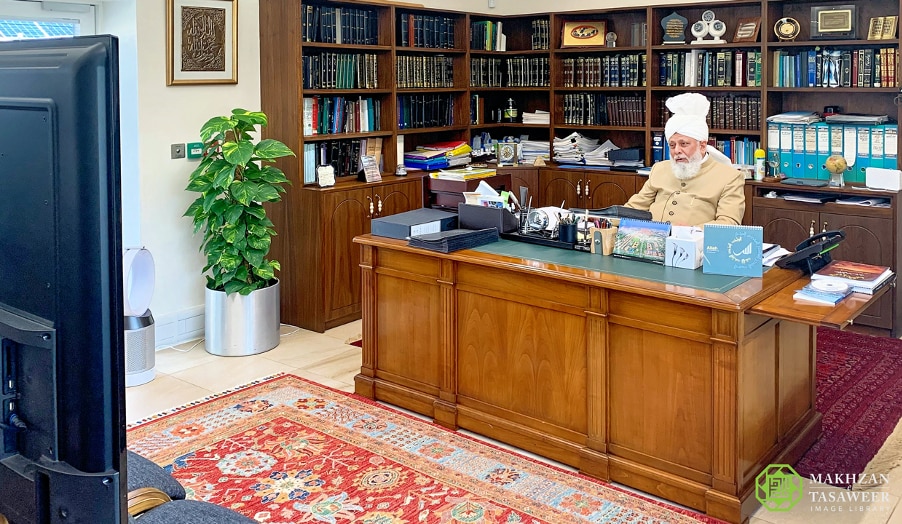 His Holiness encouraged the members of Lajna Imaillah who had interest or aptitude in writing to author articles highlighting the merits and benefits of Islam's teachings and to refute allegations commonly laid at Islam's door, particularly in relation to women's rights.
Hazrat Mirza Masroor Ahmad said:
"Even one person can bring about real transformative change for the better and so do not worry if you are starting with just a few members who are writing in defence of Islam. If your team works passionately and diligently it will inspire others to join this effort to defend the true and peaceful teachings of our religion."
His Holiness also encouraged Lajna Imaillah Holland to increase its service to humanity and to strive to fund humanitarian projects in deprived villages in Africa. For example, he suggested they ought to fund some projects designed to provide water in remote areas of the world through the installation or rehabilitation of water pumps. His Holiness said that serving others and those in need was a fundamental part of Islamic teaching.
Furthermore, His Holiness encouraged the members of Lajna Imaillah to produce thousands of face masks that could be given to local charities supporting people through the coronavirus pandemic.
As the meeting drew to a close, Hazrat Mirza Masroor Ahmad said: 
"At all times seek to do justice to your work and to fulfil the pledge you have made to give precedence to your faith over worldly matters. If you believe in the Hereafter and consider that God Almighty is watching over you at all times then you will work with the necessary spirit and passion. May Allah the Almighty enable you to do so."
During the meeting with converts and students, His Holiness was asked if Ahmadi Muslims should continue to engage in Tabligh (outreach) to people who continued to abuse and speak maliciously in opposition to the Ahmadiyya Muslim Community.
Upon this, Hazrat Mirza Masroor Ahmad said:
"There is no benefit to keep preaching to people who just continue debate and argue for the sake of it or who abuse our faith. To continually engage with such people is a waste of time. Rather, our Tabligh efforts should focus on those who wish to engage in a civilised and courteous way and who have genuine questions. There are many such decent people and so do not waste your time and efforts on those who seek to abuse our beliefs or who are vindictive in nature."
Regarding the issue of transgender rights, Hazrat Mirza Masroor Ahmad said:
"It can never be morally right for society to encourage young people to change their biological gender or sex. This is completely against the teachings of Islam. Nonetheless, there are some people who are born intersex and they should be supported and helped by society so that they can live their lives in the best way possible. They should be protected from discrimination or having their human rights usurped."