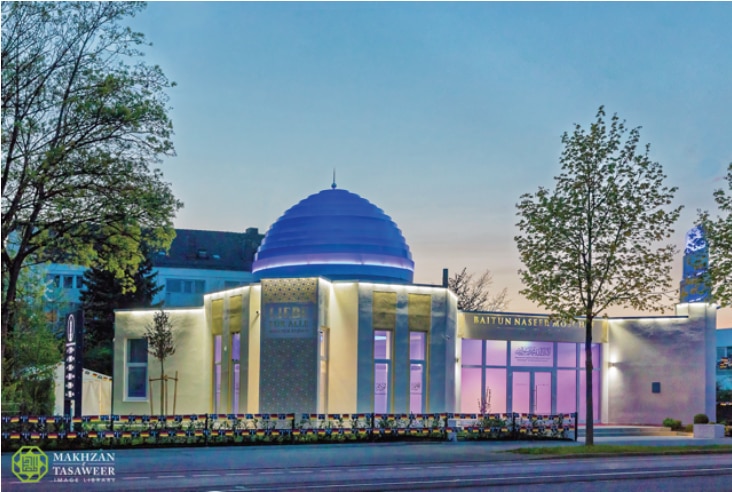 New Ahmadiyya Mosque Opened in Augsburg by Head of Ahmadiyya Muslim Community
Hazrat Mirza Masroor Ahmad says Islam condemns all forms of extremism and terrorism as he opens new Mosque
The Ahmadiyya Muslim Community is pleased to announce that on 11 April 2017, the World Head of the Ahmadiyya Muslim Community, the Fifth Khalifa (Caliph), His Holiness, Hazrat Mirza Masroor Ahmad inaugurated the Baitul Naseer Mosque (The House of the Helper) in Augsburg, Germany.
Upon arrival, His Holiness officially inaugurated the Mosque by unveiling a commemorative plaque and offering a silent prayer in thanks to God Almighty. Thereafter, His Holiness led the Zuhrand Asr prayers at the Mosque.
Later, a special reception, attended by more than 130 dignitaries and guests, was held to mark the opening of the Mosque at the Kongress am Park convention centre.
The highlight of the event was the keynote address delivered by Hazrat Mirza Masroor Ahmad during which he explained the true purposes of Mosques and highlighted the importance of fulfilling the rights of mankind in light of the teachings of Islam.
Speaking about why Mosques were built, Hazrat Mirza Masroor Ahmad said:
"The Holy Quran has taught Muslims that where, on the one hand, they must offer their prayers, they must also ensure their conduct is of the highest order by serving humanity and helping others. Therefore, wherever and whenever we build mosques, they serve both as a place for us to worship God and also as a place from which we serve mankind."
In light of Islam's teachings to serve others, Hazrat Mirza Masroor Ahmad described some of the humanitarian projects established by the Ahmadiyya Muslim Community in remote parts of Africa and elsewhere.

Apart from building schools, hospitals and developing model villages, the Ahmadiyya Muslim Community was installing water pumps and wells in order to provide clean drinking water to people living in the most impoverished and bleak conditions.
Hazrat Mirza Masroor Ahmad said:
"Here in developed world, we do not understand the true value of clean water. In fact, a person can only truly recognise its importance when he or she visits the most remote parts of the world and sees for themselves how people are being forced to live. For example, as a result of the poverty they suffer from, instead of going to school, children have to travel miles each day in order to collect dirty pond water, which they bring back to their homes for their families to use."
Hazrat Mirza Masroor Ahmad continued:
"We, Ahmadi Muslims, are installing hand pumps that provide clean water in remote villages and the look of joy on the faces of the local people when they see clean running water for the first time is indescribable. The smiles on the faces of the young local children suggest that they have won a huge lottery worth millions and millions. It is to bring relief to such people and to help them that we endeavour to serve the communities in which we build our Mosques."
His Holiness explained that the basis of the teachings of the Founder of Islam (peace be upon him) were to fulfil one's obligations towards God Almighty and to serve mankind. He said today these two overarching Islamic purposes were being spread by the Khilafat (Caliphate) leading the Ahmadiyya Muslim Community, whilst, in complete contrast, the so-called Khilafat of the terrorist group Daesh was spreading terror and fear and inflicting the most brutal cruelties.
Speaking about the actions of the actions of Daesh and other extremist groups, Hazrat Mirza Masroor Ahmad said:
"Daesh has spread disorder and committed atrocities not only in the West but especially in Muslim countries. They have mercilessly killed thousands upon thousands of innocent people without reason. Thus, their leadership can never be classed as a Khilafat because in every respect it is violating the peaceful teachings of Islam."
Prior to the official reception, a tree was also planted at the Mosque by His Holiness and commenting upon this, Hazrat Mirza Masroor Ahmad stated:
"Where we plant physical trees to beautify and clean the environment and bear fruit, we also plant spiritual trees that yield fruits of love and humanity. Hence, we always seek to treat our neighbours and those around us with compassion and we endeavour to fulfil their rights in every possible way."
Hazrat Mirza Masroor Ahmad continued:
"Instead of conflict and division, we desire for people to live alongside one another in peace and harmony. We seek to build bridges of love that unite all mankind."
His Holiness also explained that the motto of the Ahmadiyya Muslim Community, 'Love for all Hatred for None' was not a new teaching, rather it reflected the basic teachings of Islam. On the other hand, His Holiness said that "wrongful leadership" had caused many other Muslims to become misguided.
Explaining the oft-misunderstood concept of Jihad, Hazrat Mirza Masroor Ahmad said:
"People falsely assume that Muslims become terrorists because the Holy Quran teaches extremism. However, nothing could be further from the truth because the Quran repeatedly advocates peace, love and tolerance. Quite literally, Jihad means 'to struggle' in order end all forms of cruelty and evil and this is the true Jihad that the Ahmadiyya Muslim Community is carrying out in all parts of the world."
Concluding his address, Hazrat Mirza Masroor Ahmad said:
 "I hope and expect that after having built this mosque, the local Ahmadi Muslim will now increase in their worship of God Almighty, whilst at the same time will also intensify their efforts to fulfil the rights of their neighbours and the members of society."
Earlier, a welcome address was given by the National President of the Ahmadiyya Muslim Community Germany, Abdullah Wagishauser, followed by comments from guest speakers.
The Mayor of Augsburg, Stefan Kiefer said:
"On behalf of our city, I would like to congratulate the Ahmadiyya Muslim Community on this very special day where their new Mosque is being inaugurated. The fact that your spiritual leader, Hazrat Mirza Masroor Ahmad, who is a global ambassador for peace, is attending proves how significant today is."
 Christine Kamm, Member of Provincial Assembly said:
"Today is a great day for all for all of us because your beautiful new Mosque is being opened here in Augsburg. The Ahmadiyya Muslim Community's teachings of 'Love for All, Hatred for None' are very praiseworthy and a wonderful contribution to our city."
 Harald Guller, Member of Provincial Assembly said:
"I am very grateful to the Ahmadiyya Muslim Community for the fact that you have set an example for other communities in the way that you are always open and partake in dialogue with us. Your community follows peaceful Islam and is against all forms of cruelty and extremism."
Johan Hausler, Member of Provincial Assembly said:
"The presence of His Holiness, Hazrat Mirza Masroor Ahmad is not just an honour for our city but for the entire State. We also extend our hand in friendship to you and will help you in your efforts to spread peace in the world."
The formal session concluded with a silent prayer led by His Holiness, followed by dinner. His Holiness was also interviewed by various German media organisations.