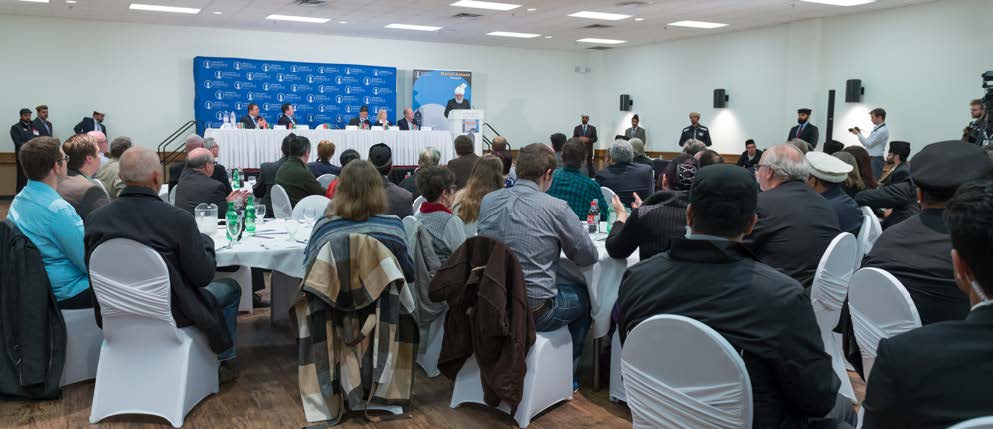 "No need to fear true Mosques" – Head of Ahmadiyya Muslim Community
Hazrat Mirza Masroor Ahmad inaugurates new Mosque in Lloydminster, Canada
The Ahmadiyya Muslim Community is pleased to announce that on 5 November 2016, His Holiness, Hazrat Mirza Masroor Ahmad, the World Head of the Ahmadiyya Muslim Community, the Fifth Khalifa (Caliph), inaugurated the Baitul Amman Mosque in Lloydminster, Saskatchewan in Canada.
Upon arrival at the Mosque, His Holiness unveiled a plaque to commemorate the opening, which was followed by a silent prayer. Thereafter, His Holiness led the Maghreb and Isha prayers from the new Mosque.
The following day, 6 November 2016, a special reception was held to mark the opening of the new Mosque in which Hazrat Mirza Masroor Ahmad delivered the keynote address.
During his address, His Holiness spoke of the true purpose of mosques and how the new Mosque would not only be a place to worship God Almighty, but would also prove a means of serving and protecting all people.
His Holiness said that at a time when there was widespread fear of Islam, it was a sign of open heartedness and
"extraordinary courage"
that the guests had attended an Islamic event.
His Holiness then explained in detail the true objectives of building Mosques.
Hazrat Mirza Masroor Ahmad said:
"The Arabic word for Mosque is 'Masjid' and this word literally means a place for people to congregate in complete humility and submission in order to worship God Almighty. If a person enters a Mosque with this meek spirit, considering himself to be worthless, he can never wish any type of harm on others or be the cause of discord or animosity."
Hazrat Mirza Masroor Ahmad continued:
"A Muslim who offers his prayers with humility is a person who is kind, caring and merciful and who strives to stay away from immorality, illegal activity and all forms of evil. Rather than promoting disorder or division, Mosques are a means of bringing people together in humility for the worship of their Creator."
His Holiness quoted chapter 5, verse 3 of the Holy Quran, which states,
"And let not the enmity of a people that they hindered you from the Sacred Mosque, incite you to transgress."
Explaining this verse, Hazrat Mirza Masroor Ahmad said:
"Here, Allah the Almighty prohibited those early Muslims who had been mercilessly persecuted from responding unjustly or transgressing against their oppressors, even though they had sought to prevent them from entering the Holy Kaabah, the Sacred Mosque, which is the most revered place in Islam."
Hazrat Mirza Masroor Ahmad continued:
"Consequently, the Holy Quran has laid down an unprecedented standard of tolerance, justice and forbearance for Muslims to abide by, wherein they are duty-bound to act righteously, with grace and fairness, even to those who seek to deny them their religious freedom… Therefore, let it be clear that there is no need to fear true Mosques because they are not places of vengeance or hatred but are abodes of peace, harmony and unity built for the sake of worshiping God Almighty."
His Holiness also quoted chapter 4, verse 37 of the Holy Quran which calls on Muslims to show kindness towards
"parents, and to kindred, and orphans, and the needy, and to the neighbour who is a kinsman and the neighbour who is a stranger, and the companion by your side."
Commenting on this verse, the Caliph said that it required Muslims to lovingly serve all of mankind, irrespective of colour, caste or creed.
His Holiness said that Mosques of the Ahmadiyya Muslim Community reflected the Quranic spirit of benevolence and were built with the dual objectives of fulfilling the rights of God Almighty and also fulfilling the rights of mankind.
Hazrat Mirza Masroor Ahmad said:
"Our Mosques are built with the purpose of bringing people together and serving our neighbours and the local society. Our Mosques are beacons of light radiating peace, love and humanity. Wherever we have built Mosques or we have established Ahmadi communities we seek to alleviate the suffering of the local people because Allah the Almighty has linked the fulfillment of His rights with the fulfillment of the rights of humanity. Our faith teaches us that our worship and our prayers are worthless if we fail to love, support and cherish those around us." 
His Holiness gave the example of the charitable initiatives in Africa where the Ahmadiyya Muslim Community was providing clean drinking water, healthcare and education by building water pumps, hospitals and schools in some of the most deprived parts of the world.
Explaining the positive effects of the humanitarian endeavours of the Ahmadiyya Muslim Community, Hazrat Mirza Masroor Ahmad said:
"Instead of carrying earthen vessels upon their heads for hours on end, those children are now being educated in schools that our community has established. We are seeking to free them from the bondage of their poverty and help them stand upon their own feet so that they can grow to serve not only their families but also their nations."
Hazrat Mirza Masroor Ahmad continued:
"We consider it to be our good fortune to remove the heavy weight of desperation from the shoulders of such disadvantaged people. This is true Islam, wherein apart from worshiping God Almighty, Muslims strive earnestly to provide comfort to others." 
Concluding his address, Hazrat Mirza Masroor Ahmad said that the local people who lived near the Mosque would soon come to see that the new Mosque would prove to be a
"centre of peace for all of mankind".
Hazrat Mirza Masroor Ahmad prayed:
"I pray that our neighbours and indeed all members of the society come to see and witness for themselves the highest standards of benevolence, care and consideration from the local Ahmadi Muslims. And I pray that that we are never a cause of pain or concern for anyone. I am confident that the local Ahmadi Muslims will act upon this and will strive to serve humanity with selflessness and open hearts."
Before the keynote address, a welcome address was given by the National President of the Ahmadiyya Muslim Community Canada, Lal Khan Malik followed by remarks by the Mayor-elect of Lloydminster, Mr. Gerard Albers who welcomed Hazrat Mirza Masroor Ahmad to the city. Thereafter, various other dignitaries also took to the stage.
Colleen Young, MLA Saskatchewan Province said:
"Your Holiness, under your leadership, we can see and we can feel in our province and in my constituency and in our city, how the Ahmadiyya Muslim Community is engaged to serve humanity… Here in Canada and Saskatchewan, we share your vision of love for all and hatred for none."
Jason Kenney, Former Federal Minister of Integration and Federal Minister of Defence, said:
"The Ahmadiyya Muslim Community in Canada is a community that is a model for integration for maintaining its faith and identity, in the Canadian model of pluralism. A community that is fully Muslim and fully Canadian and is therefore a wonderful example to newcomers from across the world."
John Gormley, former politician and current host of a well-known radio talk show said:
"In terms of community outreach, in terms of civic engagement, in terms of building a better Canada, the Ahmadiyya Muslim Community's national outreach is absolutely an inspiration for us."
Both prior to and after the reception, His Holiness met personally with a number of guests and also held a press conference with local media representatives.