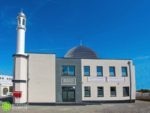 New Ahmadiyya Mosque opened in Morfelden-Walldorf, Germany by Head of Ahmadiyya Muslim Community
The Subhan Mosque inaugurated by Hazrat Mirza Masroor Ahmad
The Ahmadiyya Muslim Community is pleased to announce that on 6 September 2016, the World Head of the Ahmadiyya Muslim Community, the Fifth Khalifa (Caliph), His Holiness, Hazrat Mirza Masroor Ahmad inaugurated the Subhan Mosque (Mosque of Purity) in the German city of Morfelden-Walldorf.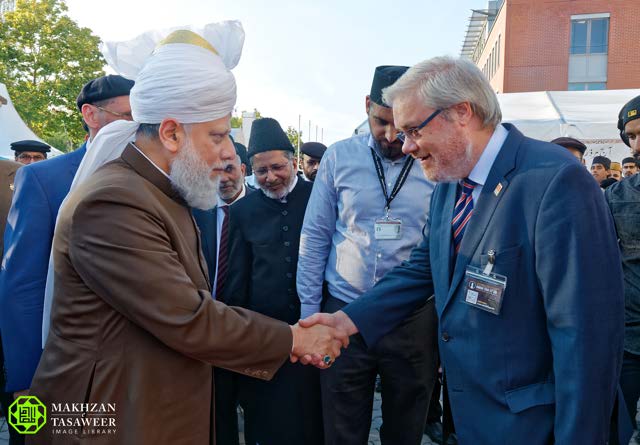 Upon arrival, His Holiness officially inaugurated the Mosque by unveiling a commemorative plaque and offering a silent prayer in thanks to God Almighty.
His Holiness then led the Zuhr and Asr prayers at the new Mosque and later planted a tree at the Mosque premises to further mark the occasion.
Thereafter, a special reception, attended by around 150 dignitaries and guests, was held to mark the opening of the Mosque. Various dignitaries attended, including the Mayor of Morfelden-Walldorf.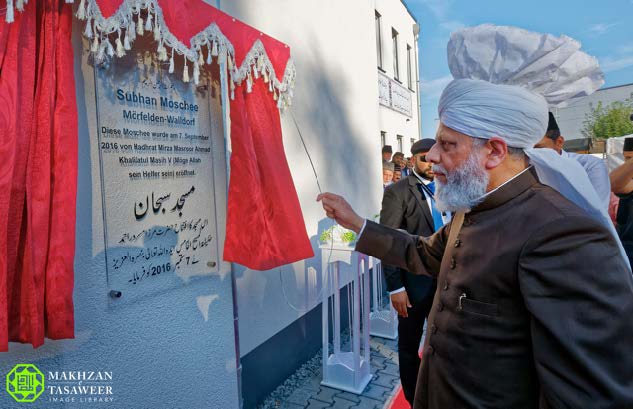 The National President of the Ahmadiyya Muslim Community Germany, Abdullah Wagishauser gave a welcome address, followed by comments from guest speakers.
Representing the Protestant Church, Father Jochen Muhl said:
"I would like to take this opportunity to congratulate the Ahmadiyya Muslim Community upon the inauguration of this Mosque. You are good people and our friends."
President of the Buddhist Community, Matthias Groninger said:
"It is a great honour for this town that His Holiness, Hazrat Mirza Masroor Ahmad is visiting us. I congratulate you all on the building of this Mosque which I believe to be a symbol of peace."

Mayor of Morfelden-Walldorf, Heinz-Peter Becker said:
"A fundamental human right is religious freedom and we see that here in Germany and it is part of our Constitution. Certainly, the Ahmadiyya Muslim Community upholds human rights and is against all forms of religious compulsion."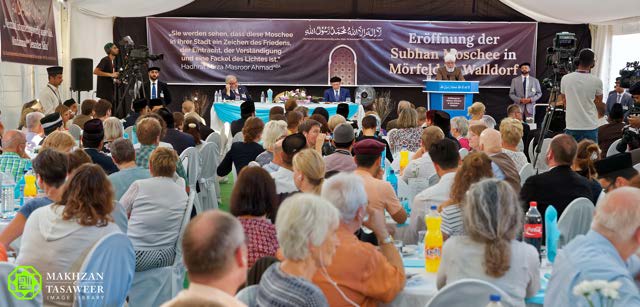 Thereafter, the keynote address was delivered by Hazrat Mirza Masroor Ahmad in which he addressed and explained various issues according to the teachings of Islam.
Speaking about how all religions in their original form were forces for peace, Hazrat Mirza Masroor Ahmad:
"All the major religions of the world are present in this town and if their followers act upon the true teachings of their respective religions then you will never see any conflict or division arise. All religions, in their original form, seek to establish values of peace, love and tolerance."
Hazrat Mirza Masroor Ahmad continued:
"The purpose of a Mosque is to establish peace and indeed every true place of worship is a symbol of peace and harmony. When the Holy Prophet of Islam (peace be upon him) was permitted to fight a defensive war it was for the sake of establishing the peace and freedom of belief."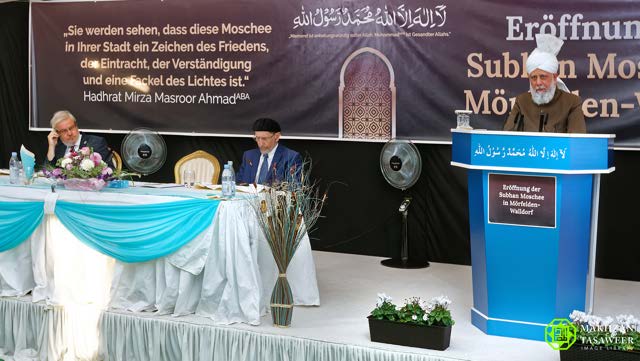 His Holiness said that the wars fought in early Islam were for conducted for the sake of establishing universal religious freedom.
Hazrat Mirza Masroor Ahmad said:
"Where Islam granted the Holy Prophet (peace be upon him) permission to engage in a defensive war it was in order to protect the people of all faiths and all places of worship. It was to protect churches, temples, synagogues, mosques and the places of worship of all people."
Speaking of the need for people to join together and for increased dialogue, Hazrat Mirza Masroor Ahmad said:
"Dialogue between different communities and groups is extremely important and the way to break down barriers and to foster mutual understanding. We should remember that we all make mistakes and have weaknesses and so it is better to focus on each other's qualities and try to ignore their shortcomings. This is the way to build bridges and the means for peace."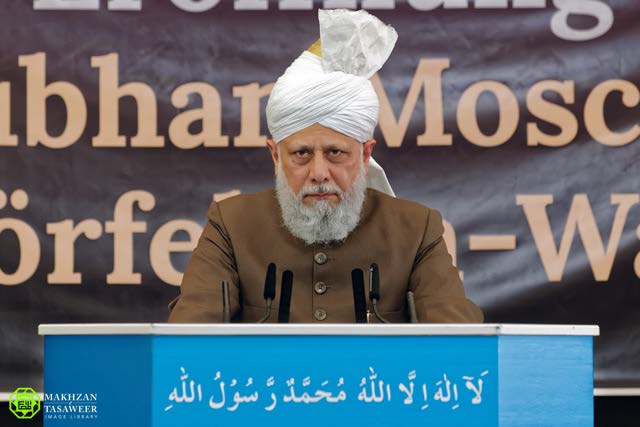 Concluding, Hazrat Mirza Masroor Ahmad said:
"A message of peace and harmony echoes in all directions from our Mosques wherever they are built and wherever our community is established. Now that this Mosque has been inaugurated, I am confident that the local Ahmadi Muslims will spread Islam's message of love and peace far and wide."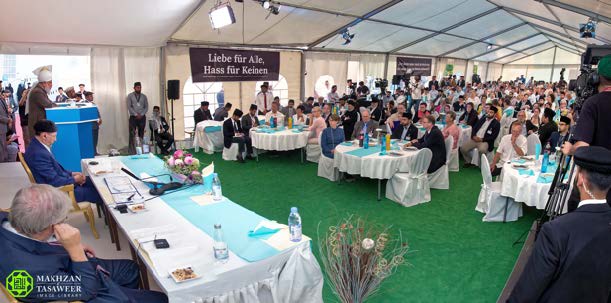 Hazrat Mirza Masroor Ahmad continued:
"I pray that with each day that dawns the local people will come to the realisation ever more that this Mosque is not merely adding to the physical beauty of this town, but rather is a means of peace and security for them."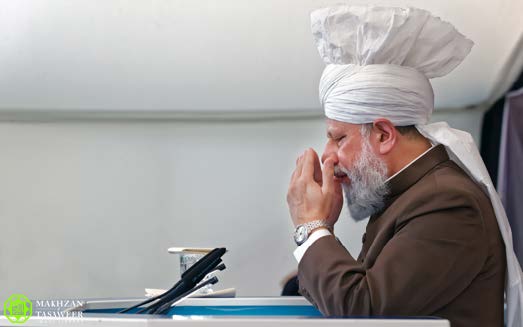 The formal session concluded with a silent prayer led by His Holiness followed by dinner.