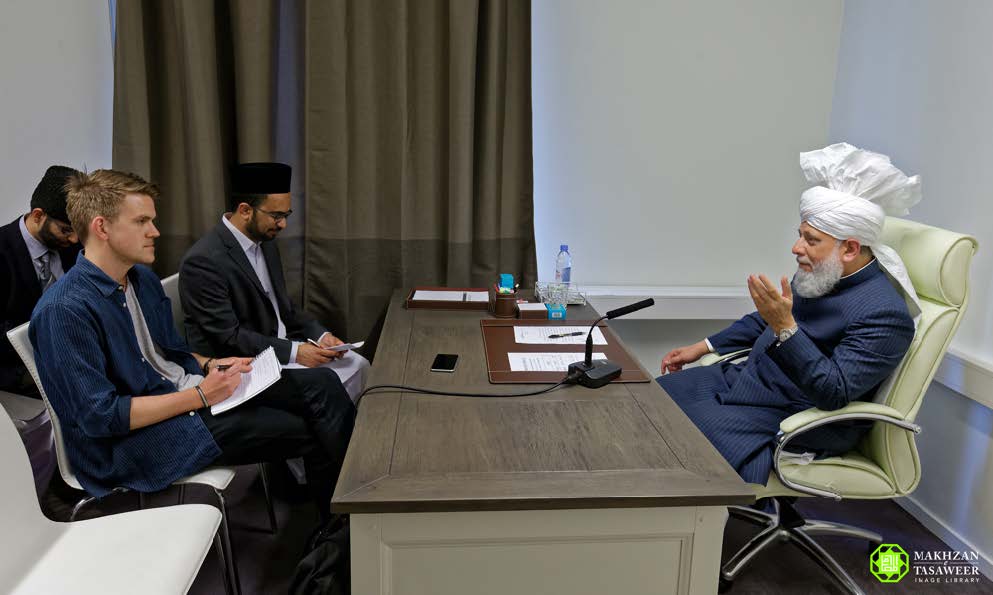 "We are peace loving people" – Head of Ahmadiyya Muslim Community
Hazrat Mirza Masroor Ahmad makes remarks during interview with Sweden's 24Malmo news agency
On 13 May 2016, the World Head of the Ahmadiyya Muslim Community, the Fifth Khalifa (Caliph), His Holiness, Hazrat Mirza Masroor Ahmad was interviewed by the 24Malmo news agency at the Mahmood Mosque in Malmo, Sweden.
Asked about rumours that the terrorist group Daesh was radicalising and recruiting Muslim youths in Malmo, Hazrat Mirza Masroor Ahmad said:
"It is the duty of the Government and authorities to remain vigilant to the threat of terrorism at all times and to monitor the situation. I also think the police and authorities should be given adequate resources to stop terrorists and extremists."
Continuing, Hazrat Mirza Masroor Ahmad said:
"As far as the Ahmadiyya Muslim Community is concerned none of our members are radicalised – rather we are peace loving people."
Asked about the ongoing refugee crisis, Hazrat Mirza Masroor Ahmad said it was impossible for any single country to accommodate the millions of Syrian and Iraqi refugees.
As a potential solution, His Holiness cited the example of Afghan refugees given refuge in Pakistan during the 1980s who were returned to Afghanistan once peace was restored in their homeland. At that time, the major powers and international institutions supported Pakistan by providing funding and infrastructure to house the refugees.
His Holiness said that a similar model could be adopted for the Syrian and Iraqi refugees wherein neighbouring countries were provided support to take in the majority of refugees until peace was restored in their respective countries.