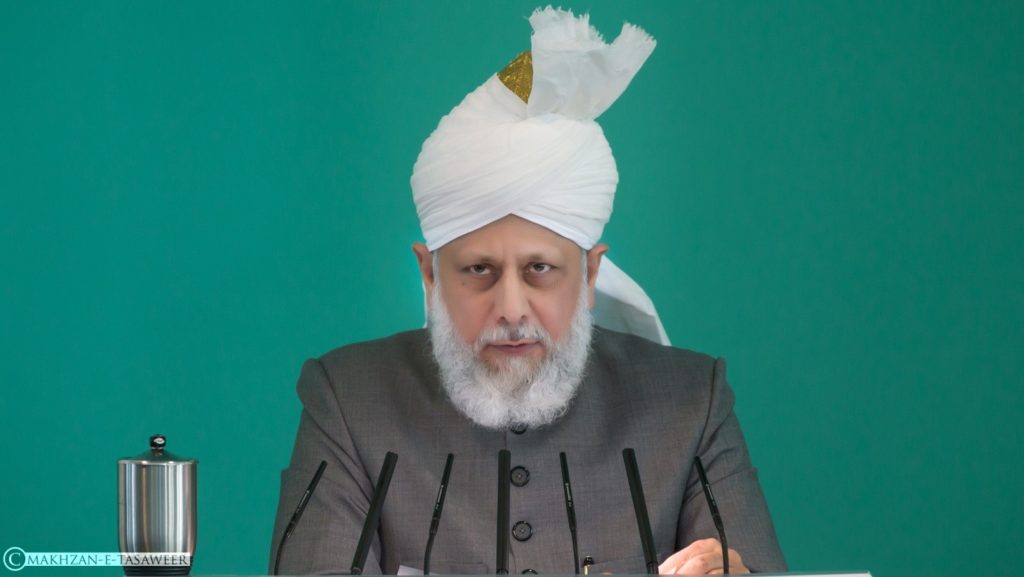 Head of Ahmadiyya Muslim Community pays tribute to Ahmadi Muslim martyred in Scotland
Hazrat Mirza Masroor Ahmad says UK authorities must ensure religious hatred and sectarianism is not allowed to spread to the UK.
The World Head of the Ahmadiyya Muslim Community, the Fifth Khalifa (Caliph), His Holiness, Hazrat Mirza Masroor Ahmad paid tribute to an Ahmadi Muslim man martyred in Glasgow during his weekly Friday Sermon delivered at the Baitul Futuh Mosque in London on 1 April 2016.
His Holiness made the comments following the murder of Asad Shah, 40, who was killed outside his shop in Glasgow in a faith-based attack on Thursday, 24 March 2016.
Hazrat Mirza Masroor Ahmad said:
"Asad Shah was martyred due to the actions of those who wish to spread hate and disorder. He was killed due to his religious beliefs as an Ahmadi Muslim and so achieved the status of a martyr. Surely to Allah we belong and to Him shall we return."
Hazrat Mirza Masroor Ahmad continued:
"The media and government officials have expressed their condolences and grief following this incident. Certainly, the government and relevant authorities must take action to stop extremism spreading here in the UK.  If extremist clerics are given a free hand, we will come to see the same levels of religious hatred and persecution here in the UK that we see in Muslim countries."
Mr Shah was an active member of the Ahmadiyya Muslim Community and strived to live his life peacefully and to spread Islam's true teachings of humanity.
Hazrat Mirza Masroor Ahmad led Mr Shah's funeral in absentia after the Friday Prayers.
Whilst hundreds of Ahmadi Muslims have been martyred in Pakistan and elsewhere, this is the first time that an Ahmadi Muslim has lost their life in a faith based attack in the United Kingdom. It sets an extremely dangerous precedent and so the Ahmadiyya Muslim Community urges the Government and law enforcement agencies to take all possible measures to root out all forms of religious hatred, intolerance and sectarianism.
It is the firm belief of the Ahmadiyya Muslim Community that all people should be able to peacefully practice their faith without fear of persecution or violence.