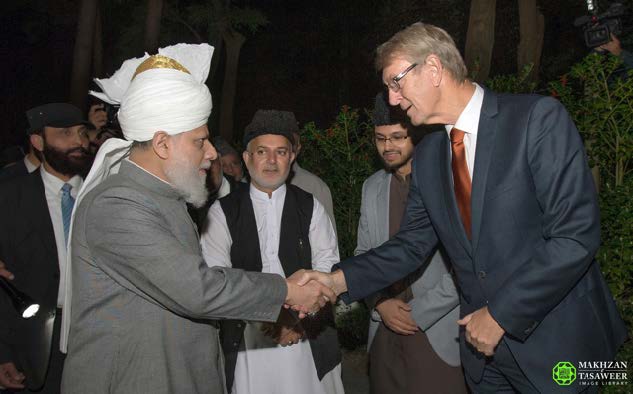 Head of Ahmadiyya Muslim Community arrives in Holland
Hazrat Mirza Masroor Ahmad welcomed to Nunspeet by local Mayor
The World Head of the Ahmadiyya Muslim Community, the Fifth Khalifa, His Holiness, Hazrat Mirza Masroor Ahmad arrived at the Baitun Noor Mosque in Nunspeet, Holland on 4th October 2015.
The Khalifa (Caliph) travelled from London by road and after crossing into France he was greeted by the National President of the Ahmadiyya Muslim Community in Holland, Mr Hibbatun-Noor and various other officials who then escorted His Holiness to Holland.
His Holiness arrived at the Mosque at 8.35pm local time where he was greeted by Hon. Dick van Hemmen, Mayor of Nunspeet, as well as hundreds of Ahmadi Muslim men, women and children all overjoyed to see their spiritual leader once again.
Upon arrival, His Holiness led the Maghreb and Isha prayers for the first time at the Baitun Noor Mosque since it was rebuilt at the Nunspeet complex.
During his visit, His Holiness will make an address at the Dutch National Parliament before an audience of local and foreign Parliamentarians and dignitaries. His Holiness will also attend a number of other official engagements and media interviews during his stay in Holland.