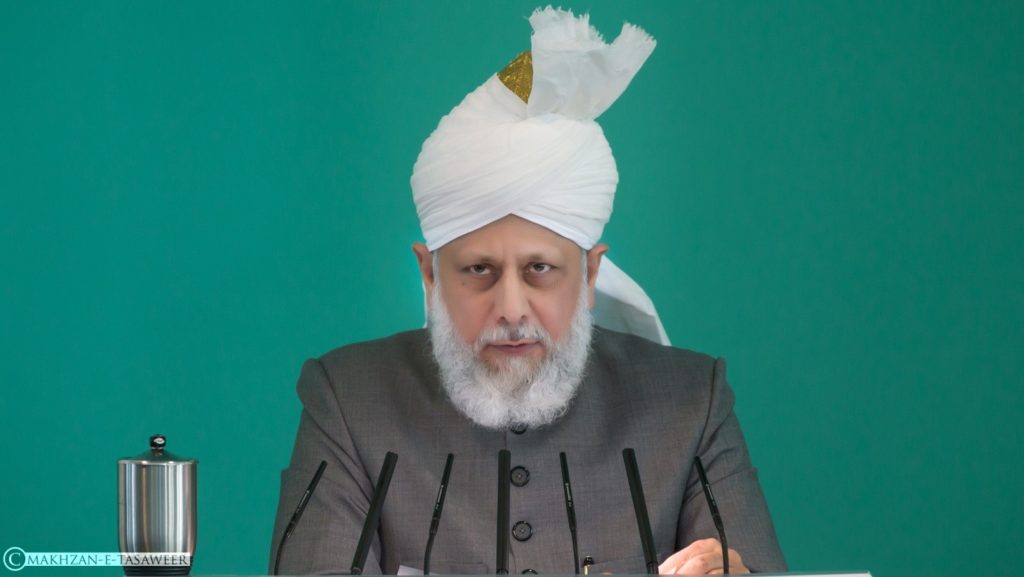 Head of Ahmadiyya Muslim Community condemns Peshawar School Attack and prays for Victims
During his weekly Friday Sermon, delivered at the Baitul Futuh Mosque in London, the World Head of the Ahmadiyya Muslim Community, the Fifth Khalifa, His Holiness, Hazrat Mirza Masroor Ahmad has spoken of his grief over the recent terrorist attack at a military school in Peshawar in which more than 130 children were brutally killed.

His Holiness, who described the victims as 'martyrs', condemned the outrageous attack and said that the entire Ahmadiyya Muslim Community worldwide felt the pain of those left bereaved. He repeatedly prayed for the victims and their families and called on the Muslim world to unite against all forms of extremism.
Describing the Peshawar attack, Hazrat Mirza Masroor Ahmad said:
"This attack cannot be described only as cruelty, but in fact it was the most extreme example of barbarity and bloodshed as the vast majority of the victims were innocent young children. And so this attack has left humanity in despair. Every single person who possesses even a grain of humanity has cried aloud with distress and grief."
Condemning the attack as completely against the teachings of Islam, Hazrat Mirza Masroor Ahmad said:
"These innocent children were brutally targeted by people who say they seek to enforce 'Sharia Law'. What kind of Islam is it that they practice? What type of Sharia do they follow? The Holy Prophet Muhammad (peace and blessings be upon him) strictly forbade for any woman or child to ever be targeted."
Hazrat Mirza Masroor Ahmad continued:
"It is a tragedy and injustice of the heaviest proportion that such hateful and vengeful acts are being carried out in the name of that God, who is Gracious, who is Benevolent and All-Merciful.

It is being conducted in the name of that God whose compassion is unparalleled. It is being done in the name of that Prophet (peace be upon him) who has been declared by God Almighty as the 'Mercy for all Mankind'. And it is being falsely justified in the name of that Sharia, which advocates peace and justice for all."
His Holiness said that Ahmadi Muslims throughout the world had been left devastated by this attack. He said that the Founder of the Ahmadiyya Muslim Community had inculcated within his followers a spirit of true sympathy for mankind. Furthermore, the Promised Messiah (peace be upon him) repeatedly counselled Islamic clerics to guide the Muslim world towards compassion and humanity and away from all forms of extremism or sectarianism. He said this would be a great favour on their part towards mankind.
Hazrat Mirza Masroor Ahmad said:
"We Ahmadi Muslims sympathise and love humanity and so wherever mankind suffers in any way it leaves us grieved and pained. In this instance those killed were our fellow Muslim brothers and our countrymen and so our grief is even more. Our hearts are filled with love and compassion for them."
Praying for the victims of this atrocity, Hazrat Mirza Masroor Ahmad said:
"May Allah the Exalted cover all of the victims and those left bereaved with His mantle of Mercy and Love, and grant their parents patience and steadfastness."
The Head of the Ahmadiyya Muslim Community said that terrorism and extremism was not limited to Pakistan but had spread across much of the Muslim world and was now out of control. He said that those who perpetrated such evils were seeking only to fulfil their selfish interests and falsely sought to justify their acts in the name of Islam.
His Holiness said that rather than bringing people towards Islam such acts took people away from God and so he called on the Muslim world to follow Islam's true teachings of peace, justice and compassion towards all of mankind.