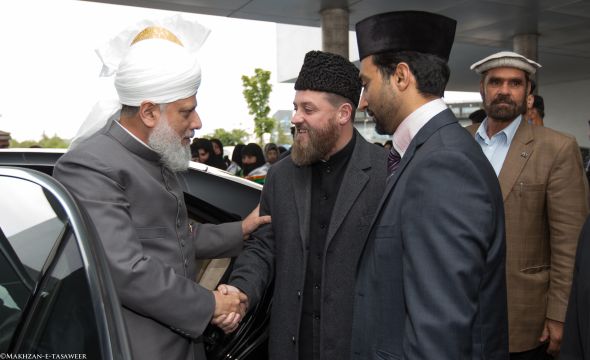 Head of Ahmadiyya Muslim Community arrives in Galway
Hazrat Mirza Masroor Ahmad travels to inaugurate Maryam Mosque
On 24 September 2014, the World Head of the Ahmadiyya Muslim Community, the Fifth Khalifa, His Holiness, Hazrat Mirza Masroor Ahmad arrived in the Irish city of Galway after a 2-hour drive from Dublin.
His Holiness has travelled to Galway to inaugurate the Maryam Mosque, which is the first Mosque built by the Ahmadiyya Muslim Community in Ireland.
Upon arrival in Galway, His Holiness was greeted by local Ahmadi Muslim men, women and children who recited poems and waved Irish flags to express their happiness that their spiritual leader had travelled to their country.
Later in the evening, His Holiness visited the Maryam Mosque and led the Maghreb and Isha prayers.