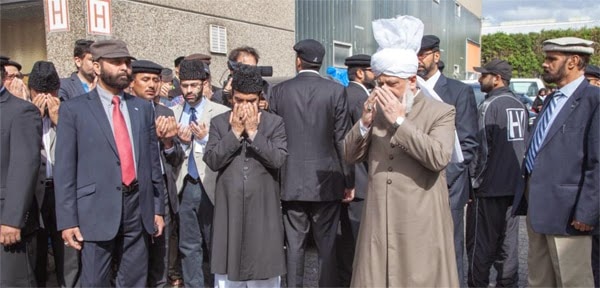 Khalifa returns to London
Hazrat Mirza Masroor Ahmad returns after 15 day tour of Germany
The World Head of the Ahmadiyya Muslim Community, the Fifth Khalifa, His Holiness, Hazrat Mirza Masroor Ahmad returned to London after a 15 day tour of Germany on 17 June 2014.
During the tour His Holiness attended the 39th Jalsa Salana (Annual Convention) of the Ahmadiyya Muslim Community in Germany. His Holiness also inaugurated 2 Mosques and laid the Foundation Stones for 2 others. He met with various delegations from a number of different countries, as well as thousands of Ahmadi Muslims.
His Holiness departed from the Baitus Sabuh Mosque in Frankfurt at 10.05am where hundreds of Ahmadi Muslims had gathered to see of their spiritual leader.
His Holiness then travelled to Calais through Germany, Belgium and France. After crossing the Channel, His Holiness was escorted directly to the Fazl Mosque in London where he was greeted by hundreds of Ahmadi Muslims upon arrival at 7.45pm local time.