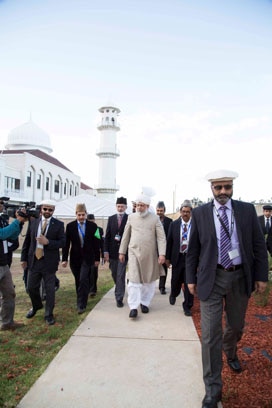 Head of Ahmadiyya Muslim Community Conducts Inspection Prior to 29th Annual Convention in Australia
Jalsa Salana will begin Friday
The World Head of the Ahmadiyya Muslim Jamaat and Fifth Khalifa, Hazrat Mirza Masroor Ahmad today conducted an inspection for the 29th Jalsa Salana Australia (Annual Convention) which shall begin tomorrow at the National Headquarters of the Community in Sydney.
During the inspection, Hazrat Mirza Masroor Ahmad visited the various departments tasked with organising and running the three-day event. His Holiness was briefed on the arrangements as he inspected the site.
Later, His Holiness addressed the workers and volunteers directly and advised them to conduct their respective duties with kindness and compassion. His Holiness said that no task ought to be considered insignificant or ordinary, rather each and every assigned duty was of importance.
Hazrat Mirza Masroor Ahmad said that as those who attended the Jalsa were deemed as guests of the Promised Messiah they should all be treated in the best possible manner. His Holiness said that non-Ahmadi guests were always impressed by the high moral standards and service of Ahmadis.
Hazrat Mirza Masroor Ahmad said:
"Serving with love and kindness is a great means of conveying the message of Ahmadiyyat. Remember that our Conventions are not just a means of moral training but are also a means of spreading the true teachings of Islam. Thus each worker should make sure that his or her every act is of the very highest standards."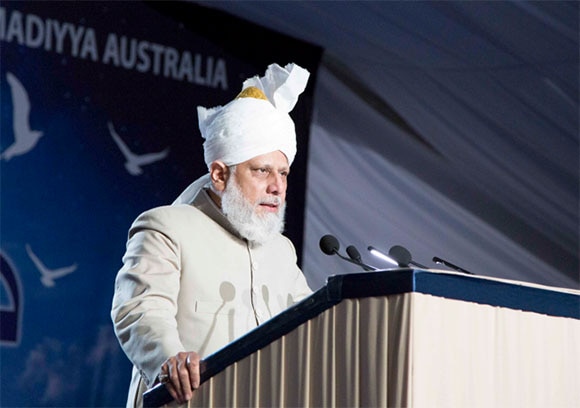 The Jalsa Salana will begin Friday lunchtime when His Holiness will raise the Flag of Ahmadiyyat and then deliver his weekly Friday Sermon3