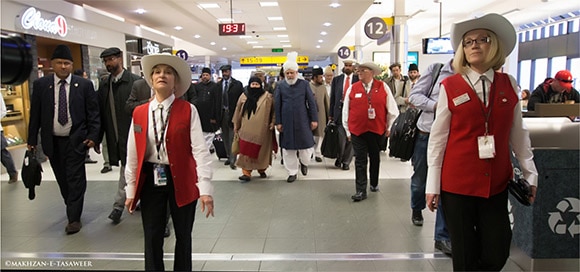 World Muslim Leader Arrives in Calgary
Hazrat Mirza Masroor Ahmad welcomed at airport by Canadian dignitaries
The World Head of the Ahmadiyya Muslim Jamaat and Fifth Khalifa, Hazrat Mirza Masroor Ahmad, arrived in Calgary on 22 May 2013 as his historic tour of North America continued.
After inaugurating the Baitur Rahman Mosque in Vancouver last week, His Holiness has travelled to Calgary to deliver this week's Friday Sermon from the Baitun Nur Mosque which is the largest Ahmadiyya Muslim Mosque in North America.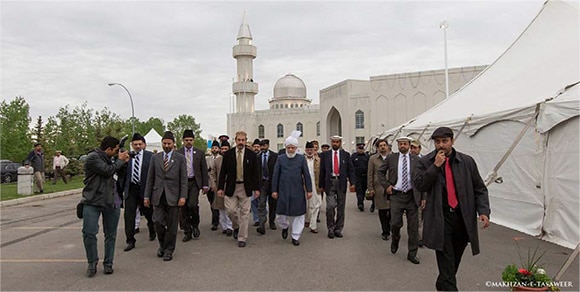 Hazrat Mirza Masroor Ahmad arrived at Calgary International Airport at 7.20pm after a short flight from Vancouver. At the airport His Holiness was greeted by 4 Members of Alberta's Legislative Assembly (MLAs) and by Calgary's Deputy-Mayor Ray Jones. After departing from the airport, His Holiness and his entourage were given a ten-car police escort to the Baitun Nur Mosque.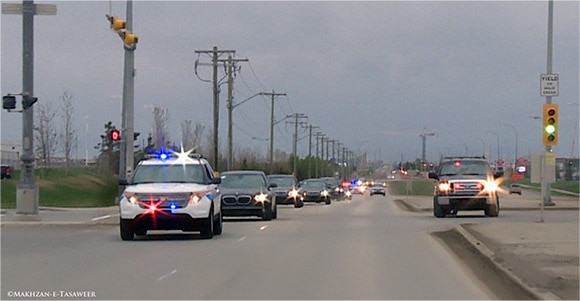 The Khalifa arrived at the Mosque just before 8pm and was greeted by more than 1600 Ahmadi Muslim men, women and children who were overcome and overjoyed at seeing their spiritual leader.
Later in the evening, Hazrat Mirza Masroor Ahmad held a meeting with three members of Alberta's Legislative Assembly, Hon. Manmeet Bhullar, Hon. Rick Mclver and Hon. Moe Emery who all welcomed him to Calgary.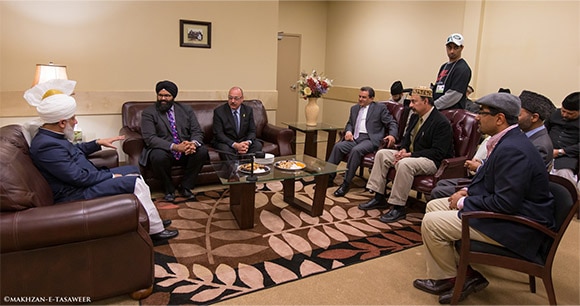 During the meeting Hazrat Mirza Masroor Ahmad strongly condemned the terrorist attack that took place earlier in the day in London and said "it had nothing to do with the real teachings of Islam" and that "Islam is a religion of peace".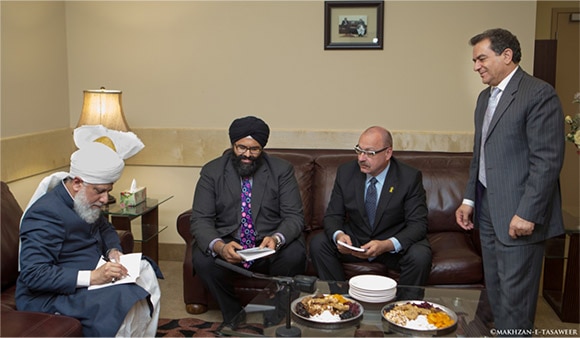 Hazrat Mirza Masroor Ahmad presented signed copies of his book 'World Crisis and the Pathway to Peace' to the three dignitaries. After presenting the books, His Holiness said the key to peace in the world was true justice amongst all parties.