Historic Address Delivered by Head of Ahmadiyya Muslim Community in California
For the first time Hadhrat Mirza Masroor Ahmad delivers Friday Sermon from US West Coast
The Worldwide Head of the Ahmadiyya Muslim Jamaat and Fifth Khalifa, Hadhrat Mirza Masroor Ahmad delivered an historic Friday Sermon on 10 May 2013 from the Baitul Hameed Mosque in Chino, California, as his first visit to the West Coast of the United States continued.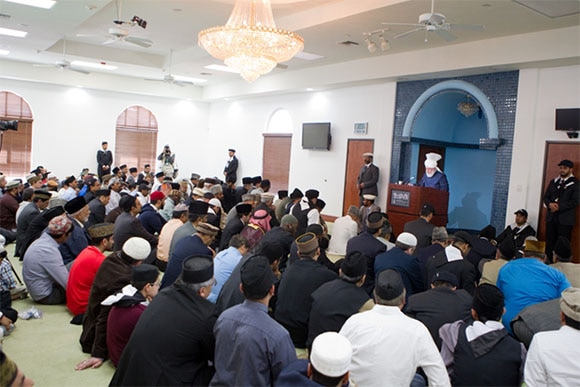 During his hour-long address, Hadhrat Mirza Masroor Ahmad said it was imperative that all members of the Ahmadiyya Muslim Jamaat took it upon themselves to spread the peaceful teachings of Islam to the people of every nation.
Hadhrat Mirza Masroor Ahmad said:
"With the Grace of God in every country there are Ahmadis who hold a keen desire to propagate the true message of Islam. Such people are also present here in the United States. I have seen for myself that a segment of Ahmadis that live here fulfil their pledge of giving precedence to their faith over all worldly matters to such a wonderful extent that it is quite astonishing."
Speaking about California directly, His Holiness said there were some people who felt the local society was purely materialistic as it was home to world's largest film industry. His Holiness said such beliefs were erroneous and illustrated a lack of resolve to spread Islam's true teachings. In particular the vast Hispanic population were inclined towards religion.
Hadhrat Mirza Masroor Ahmad said:
"It is said that in California the Hispanic population is now in the majority and it seems that they have an interest and inclination towards religion. However they are in search of the true religion and so a special programme should be made to convey the true teachings of Islam to the Hispanic population. It should be that the entire Hispanic population is introduced to Ahmadiyyat which is the true Islam."
Speaking about his hopes for the spread of Ahmadiyyat, Hadhrat Mirza Masroor Ahmad said:
"The more I think about it the stronger the feeling in my heart embeds that it is not unlikely that the establishment of peaceful Islam in the United States will initiate from this region."
After the Sermon and Prayers a Bai'at ceremony took place in which thousands of Ahmadis renewed their pledge of faith in Ahmadiyyat.