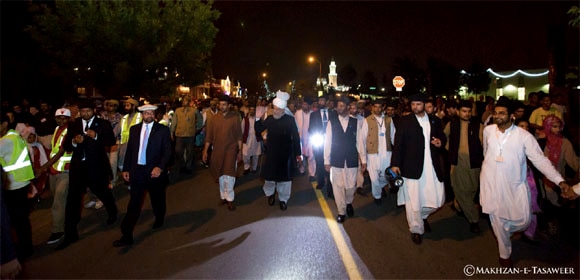 Amazing scenes of love in Peace Village
Such love could only have been instilled in the hearts of people by Allah Himself
Unforgettable scenes were witnessed late on 13 July 2012, when the World Head of the Ahmadiyya Muslim Jamaat, Hadhrat Mirza Masroor Ahmad, unexpectedly left his residence at 11pm and took a walk throughout Peace Village in Canada.
As word spread that their Khalifa was walking amongst them, thousands of Ahmadi men, women and children poured out of their homes or from the Baitul Islam Mosque to line the streets and express their unparalleled joy. Slogans were raised in praise of God Almighty, whilst others recited poems to express their feelings.
As His Holiness walked throughout the Village he waved at the Ahmadi Muslims and blessed infants who were in the arms of their parents. In each direction people were overwhelmed, tears flowing from their eyes.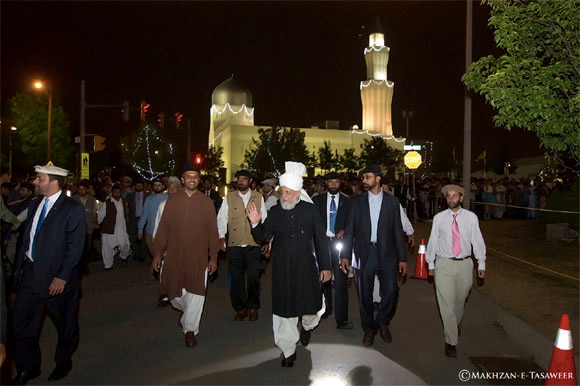 Press Secretary of the Ahmadiyya Muslim Jamaat, Abid Khan said:
"Those who were fortunate enough to be present will never forget the scenes of Friday night. The mutual love between the Ahmadi Muslims and their Khalifa was there for all to see. Such powerful and sincere love will not be found anywhere else in the world. Certainly it is clear that such love could only have been instilled in the hearts of people by Allah Himself."